So Who here still has a Record or Tape Collection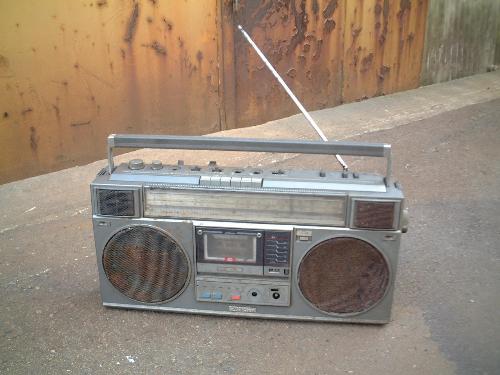 India
April 16, 2009 4:40am CST
Hi!!I Guess I like things that remind me of the past.....I still have some of Records, Tapes, Cassettes and an 8 Track Tape. 8 Track tape was a 1/2 Inch wide Tape inside a Rectangular Box maybe 5 Inches Long and 3 Inches wide. I used to provide a good quality sound. I use to collect Music cassettes and I have around three Hundred Records and almost hundred Cassette Tapes and around 12 8 Track Tapes. I have Music CD's as well.. But I don't like to play them any more. I had their DVD version too.These obsolete objects are just blocking some space in my store room. Do you ever face these types of problem.Be free to comment. Happy Mylotting!!
9 responses

• Philippines
16 Apr 09
I don't know much about the tapes you mentioned but i still have Metallica's Black Album with me though i don't play it anymore. I also have the soundtrack for Dracula 2000. It was a gift from a friend. I used to own lots of tapes but i sold it to a merchant at half the price each then he's going to resell it. It was pretty heavy on my heart because those are the metal tapes i've collected for such a long time. It's obsolete so i don't think i will be using it in the near future. I sold it so i can buy a larger memory card for my phone.

• India
21 Apr 09
Hello friend, My father was a real music freak in his time and when there were no CDs and DVDs and computers at our home, he used to collect those records and tapes. He still has them, though we use the DVD player these days in our computer. I keep them properly as those were collected by him.

• Philippines
20 Apr 09
We threw away all of our cassette tapes years before. Starting when the CDs arrived and our cassette tape player broke down - we bought a CD player and never turned back :) I think it's very nostalgic to be thinking about cassette tapes - I used to record songs from our local radio program's top 5 of the day so I could listen to them over and over again. Thanks for the response on my discussion!

• Denmark
18 Apr 09
I still have a collection of cassette tapes, and my friends usually tease me and ask me why I don't donate them to a historical museum

I intend to keep my cassette tapes and I have managed a find a stereo with a tape player, so that I can listen to my old tapes. I don't listen to them very often, but at least I am able to listen to them if I want to. I don't have my old records any longer and I haven't had a record player for years, but I don't intend to get rid of my cassette tapes


• Philippines
17 Apr 09
Hi, I just clean my room this past Holy Week season and I found my tape collections. For me, I just put it in a separate cabinet of mine so that from time to time we can still play it. We have our cassete radio and i tried to play some and it's still sound good. Even though our way of electronics now are so fast speed, for me i just like to old simple way. But I guess we have to be in modern day now to be able to catch up with them. But if you want to dispose them, i think there are still stores who buy those collection.And i think there are still persons who collects that kind of stuff.

• Philippines
17 Apr 09
I think I do, I mean my family does. But don't get me wrong, because they're no longer displayed in our racks, they're all stuffed in our old closet. Too bad, they're quite good classics, but you can access them over the net and you don't have to clutter your house with too much anyway. Furthermore, with slim CD's and DVD's it's pretty much cooler to have them around. Ciao!

• Canada
16 Apr 09
hahahah, I do have quite a bit tape collection. and quite a few records as well. plenty of cassettes. mhm, :)

• United States
16 Apr 09
I have a record collection and I do play them at times My past is in a lot of them.I don't live in the past but liked to remember it at times.I have a lot of good memories in them I have lot of tapes I play in the car it don't have a Cd player.I have Cds I play to.I don't have as many as you do so I don't have a space problem.Mylotting back to you

• United States
16 Apr 09
Yes I do too. I still have the stereo to play the albums on, the cassette player to play the tapes on, and a CD player for the CDs so I have a hard time letting them go as they all work fine. I dont have that manyrecords but you know record players are coming full circle again so you might still enjoy them soon.