Bulbs of mine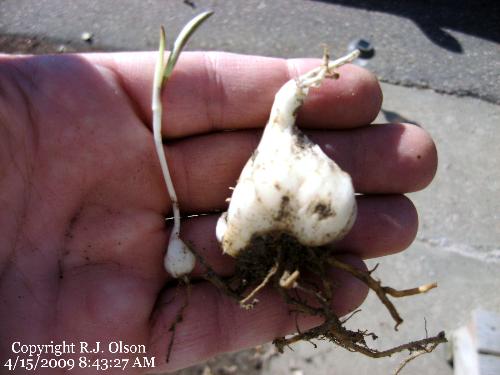 United States
April 16, 2009 12:17pm CST
I recently transplanted a bunch of my Asiatic Lilies. This photo shows two of the bulbs I transplanted. The large one is maybe 2 or 3 years old. The small one is a shoot from this one as well. Lilies spread like weeds and need thinning out about every other year or they grow in clumps and they look better in single lines I feel. Just wanted to share what the bulbs look like fully grown and just starting out. HAPPY POSTINGS FROM GRANDPA BOB!!~
8 responses


• United States
16 Apr 09
Yes, the mother bulb sends out a shoot then it turns into a bulb then it grows larger each year sending out it's own shoots. HAPPY POSTINGS FROM GRANDPA BOB!!~

• United States
16 Apr 09
I have seen a lot of them growing wild in the country all clustered together. I think they are pretty no matter how they are lined out. hahaha But with yours in single lines like that then we all know they are being very well taken care of with much love

and care.



• United States
16 Apr 09
But if left that way they tend to choke each other out, killing them. So that's why I had to thin mine out. I want them forever. HAPPY POSTINGS FROM GRANDPA BOB!!~

• United States
17 Apr 09
Neat....Lilies do spread and I like mine in a nice row...I have Iris's and tulips....I had a bunch of Daffodils but my grandson's dug them up a few years back and they just aren't doing good anymore....the one's that survived that is....lol

• Canada
17 Apr 09
I bought a tomatoe which was on a vine so we ate it,I told my friend to plant it in a pot so I told him not to worry I put tea leaves in with it so if the toamto grows it tastes like tea....HA.HA can't grow anything!!! cd

•
19 Apr 09
Yesterday I thinned all my lilies out also. They are just sprouting up again this year and boy they are everywhere. You are right saying they are like weeds. I even have some growing out of a pot, and I don't know how they got there. I love then in single lines also. My lilies will be out in July and I will take some pictures to show you. I have orange ones.

•
19 Apr 09
Hi GRANDAPA BOB, They look so very healthy and good, you will have beautiful yard soon with all them lillies blooming. Tamara

• India
18 Apr 09
It is really great that you have started thinking so much about your garden. It is really nice to have lilies in your garden. THey look really beautifuland so I love to see them. I do not have lilies in my garden, I have only roses. I lovce them too. I think all the flowers look really beautiful.