I found this great site for dogs.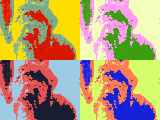 United States
April 17, 2009 3:49pm CST
I found this site for dogs on one magazine, It is dogchannel.com *not a referral link or a link to a competitive site* And if you want to go and take a look at my dog, his name is Marley. I am still giving it a try, but I love the features that I have used. Basically my dog has a profile page, and photos can be uploaded there. He can have a scrapbook and videos. One earns points and buys things with them, so far at least I am having fun. I hope it is helpful. One can make and customize e-cards with the photos of one's dog. (btw the art pop pic of Marley was done at photobucket)
7 responses

• Philippines
18 Apr 09
Hi Shelly! You may also want to try Petster. It's like Friendster but only for animals or pets. You can check it out. I didn't register an account for Moochie yet and i did check the site out. It's quite neat. You can make friends with lots of doglovers there. I have to check dogchannel first before i can compare both but if you can register on both sites, why not right?

• United States
17 Apr 09
Yep, you have been having a lot of fun on that site



• Holiday, Florida
23 Jun 09
i've heard of this site. but i have so many social sites now. i cant keep up with them. i need to do some work on coco's myspace and never get around to it. my dog has a myspace

with lots of little friends on it.

• Philippines
21 Jun 09
I see you like your dogs and want to make him/her special. Thats great.


• Holiday, Florida
20 Apr 09
thanks for letting us know. i have a myspace for coconut, but maybe this will be even better.

• United States
19 Apr 09
Thanks for the info. I'll give it a shot.