do you watch chelsea lately?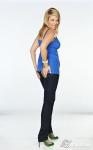 Philippines
April 18, 2009 8:18am CST
i love that show. chelsea handler is a very talented comedian. she is also an author and a very good one at that. i read an excerpt of her book online. she is really talented.

4 responses

• Philippines
18 Apr 09
Oh, yes I watch it whenever I could! Her one-liners are totally fantastic, like it's in her nature to be funny. I wish there were more talk show hosts like her--ones that can bring out the life out of us.

• Philippines
19 Apr 09

i don't think any female talk show host can pull off her sarcasm and not leave a bad taste. joan rivers has the same sarcasm but besides being too old she doesn't have that appeal to the masses like chelsea does.


• United States
18 Apr 09
I have watched her a couple of times. She is hilarious and always makes her audience and TV audience laugh. The people she has on her show even laugh and even if it is about them. I saw the commercial with Chloe Kardashian and she is like you are just a bi*** and Chloe just sat there and laughed about it too. It kinds shows you to not take everyone serious and laugh while you can because you wont always be laughing throughout your life.

• Philippines
19 Apr 09
thank you for the very nice response. chelsea hardy really knows what she's doing. if it is a serious social issue she would make a comment about she'd excuse herself for being serious. sometimes she even says not to take her show seriously. now, nobody can say that and still pull off an amazing comedic talk show. she is really talented.

• United States
5 May 09
I watch her every night...I love her show. I am not a huge fan of late night shows but I will stay up late just to watch her show. I think Chuey is the coolest and I love how they joke around with one another.

• Puerto Rico
20 Apr 09
Yes I watch her when I remember. I think she is so funny. Can be raunchy but she is still alot of fun to watch.