How would you describe this top/ clothing item for women?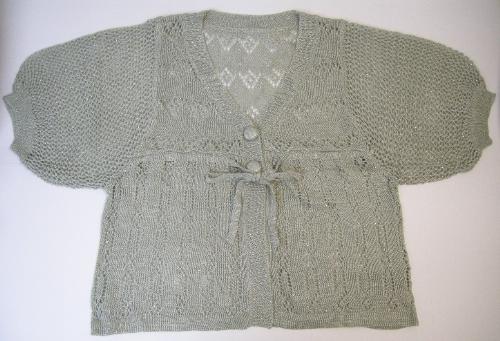 Hong Kong
8 responses

• United States
18 Apr 09
gosh, i don't see a picture of the top you are describing. :(

• United States
18 Apr 09
ah, now i see it! :) it's beautiful. it looks as though the weave is very intricate. it looks like a sweater to me and looks like a lovely item of clothing.


• Hong Kong
20 Apr 09
Thanks! I think that's quite cute and thanks for your comments! It's really a nice piece of clothing! HAHA!

• Australia
21 Apr 09
I would call it a cardigan. A short sleeved cardigan perhaps. It's not something I would wear but I do think it is nice. I think it woud look good with a pair of jeans and a white top underneath. Is this your top?

• Hong Kong
21 Apr 09
Exactly with a pair of jeans and white top *smiles*. It's sort of my top because I am selling this online now *smiles*.

• Philippines
21 Apr 09
maybe you can call it a knitted sweater or a knitted bolero(still sweater in our dialect)

• United States
21 Apr 09
oh it is one of those really short sweaters meant to be worn over a long top. I personally don't like that style on most women. I think it makes them...most...look out of proportion and brings out flaws like a not so flat belly or a flabby waist. A few women can carry it off and look absolutely stunning but most can't.

• India
19 Apr 09
I think Top is right name. Otherwise you need not to concentrate more on name. Name is only for identifying . Top is way of identifying woman dress.

• Canada
19 Apr 09
there are many different types of top clothing for ladies, as well as men. There are sweaters which are commonly knit, and there are blouses, which are more delicate shirts made of lighter fabric and some button up the front, and there are just plain shirts (more casual than blouses), sweatshirts (shirts made of heavier non-knit fabric), t-shirts (light shirts commonly with short sleeves...) etc.

• United States
24 Apr 09
hello wondericequeen i like that top lots. and it looks like a lightweight sweater top to me. i would like to have a sweater top that looks like that to wear. the grey color would go with about any kind of a bottom that a person would want to wear with the sweater top. btw, did you make the sweater? lol just wondering. if not, where did you get the sweater top at? thanks for sharing. this sweater top would look great with a black skirt. take care and have a beautiful day today!

• Philippines
22 Apr 09
a short jacket is called "bolero".I would say it's a knitted bolero