Have you ever participated in a race for charity?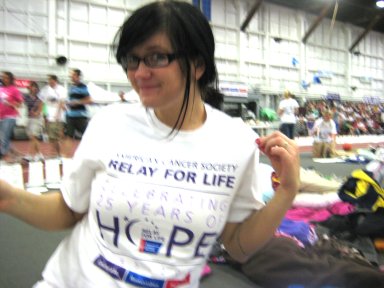 United States
April 19, 2009 5:47pm CST
Either walking or running? I did last weekend and it was probably the most rewarding experience EVER. My team raised $350 for the American Cancer Society - to support their research. We walked from 6pm to 12am (although the event actually ended at 6am - but we were too exhausted to stay any longer. lol). The combination of exercise (doing good for yourself) and helping other people is AMAZING. Have you ever participated in one of these races (for a good cause)? What was it for, when did you do it, and how did you feel afterwards? How much money did you raise as a result of it?By the way - here's a link to a charity-race SEARCH you can do if you live in the U.S. that I found particularly helpful: http://www.runnersworld.com/channel/0,,s6-239-0-0-0,00.html (NOT a referral link!) Feel free to share your personal experiences!
6 responses

• India
20 Apr 09
no i have never participated in a race for charity.infact i havent participated in a race for a long time.

• Singapore
20 Apr 09
Hi maezee. Nah I've never participated in any race ever. I have however helped organized a mini marathon for charity.

• Romania
19 Apr 09
i didn`t do that, but each time i saw someone that really needed money for his.her health, i gave him.her all my money, because they really need thouse. I can buy less juice, or something else, but he can save his life, if there will be some people like me. I remember that it was a girl, in my school that had a big problem at the neck, and she needed an intervention immediatly. She couldn`t eat at all. Some friends camed on every class and asked us if we can help her. My classmates were not so touched, but i`ve added all my money , and then, a lot of them added more! When it`s such a problem, i think that we should help each other, even if we don`t know that person. You`ll fell so good doing that. Now, i`ve built an website, but i`m adding new info all the time. I did that website for myself, but a part of the income from that website i`ll donate to people that really need money for their health. There are a lot of them. We all know that.

• United States
20 Apr 09
Well it's great that you try to help out in a different way. Kudos to you. You should still consider walking or running, one, though - because it's GREAT exercise for you, and you just feel SO good about yourself and what you're doin afterwards.

. See ya around!

• United States
19 Apr 09
I have participated in these type activities before. I think they are good to do not only for the charity, but for yourself. I think there are some things that are better to participate in then others basically you have to pick a charity that appeals to you and participate in it.

• India
20 Apr 09
Yes i have participated in a charity run. Actually two times. It was back in 2001 and then 2002. It was called the "FUN RUN" and it was 1.5 km long. Well i had a lot of fun in the race because i came 2nd place and third place in respective years. The experience of long races was good and since then i have built up stamina and am always ready to run long distances. Happy mylotting :D

• Philippines
20 Apr 09
I had participated a concert for a cause. It is not really a race but it is still for charity. I performed for free. It makes you happy helping less fortunate people. It is one of my achievements that I was able to participate in that kind of concert. It was sponsored by huge companies here in Philippines. The money earned from the concert was intended to be given to the LUMADS.