Chicken of beef?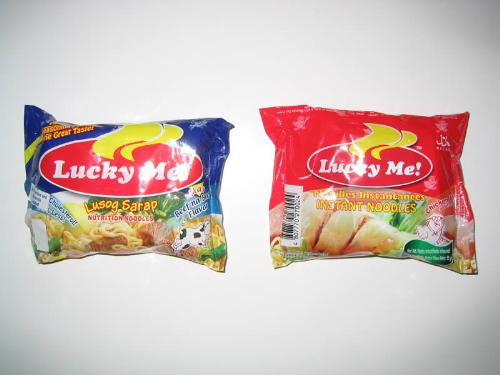 Philippines
April 20, 2009 11:35am CST
I'm talking about those instant mami noodles. It's common for us to eat or serve instant noodles in the breakfast or even snack, but what is your favorite flavor between the two? Do you like chicken? or beef one? I prefer chicken though but beef is not bad as well.. I love it with poured egg while I'm cooking it for breakfast..
9 responses


• Philippines
21 Apr 09
Hello paoxav, good day to you my friend. Here in our country we all know the the Filipino are really a food lover. Especially with this very popular food which is the instant noodles, i think in any particular persnn when you served him/her a noodles no matter what it is flavor i am surely she/he will really like it, as long as it is hot because of the reason filipino are really love eating. Well, regarding with the noodles? I really eat noodles always especially in the morning when it is served while it is hot. Well, I really love eating it and my most favorite flavor of the food is beef because with the beef flavor you can really feel the taste of it which is really beef flavor, sometimes while eating noodles in the morning i always put some spicy seasoning in order for it to be more delicious with my taste and to be more in my stomatch! Well, with this topic i really feel hungry! For me no matter what is the flavor of my favorite noodle weather if it is beef or chicken as long as I am hungry i will really go for it. By the way, i would like tn share a tip when cooking your favorite noodles, especially to the chicken flavor always try to put some milk with it atleast half serving spoon, i am sure the milk will enhance the taste of it and try to put some amount of vegetables that can be put to your noodles, then add already boiled egg. I am sure you will really love it, well that tips was given by my father which is really effective. Hmmp! I am sure you will surely love it when you try it.

. Well, that's all the end of my response in your discussion! Thank you! Happy posting and happy earning to everyone of us here in this site mylot.

good luck to earning career!

• Philippines
21 Apr 09
I go for chicken. Beef noodles taste like wood. But that does not mean i dislike beef. I just don't like it when it is artificially used as flavoring.

• Philippines
20 Apr 09
I love chicken flavor and I also put egg on it. I love eating it on breakfast and dinner. It is the best time to eat noodles during rainy season. My father always eat noodles sometimes I warn him not to eat it everyday because it is bad for him but he never listen to me. Most of us like eating noodles and it is cheap.

• Philippines
20 Apr 09
yeah tight. chicken is my choice. based on what I know, they taste like chicken because of the flavor of the powdered boiled chicken stock. So the pure flavor of chicken is on it plus mono sodium glutamate. But one thing though that I don't like with our noodles locally is the noodles itself also have a diff taste. There was an email rolled out about the ingredients of the noodles that is being used in instant noodles. They say that wax is one of the ingredients of it.

• Philippines
20 Apr 09
I like chicken more! it tastes more delicious than the beef flavored one.. i usually add one piece of egg to make it more special.. i haven't eaten noodles for months and i'm missing it and craving for it right now because of this topic.. yay! i feel like going to 7-11 store to buy packs of my favorite lucky me chicken flavored noodles..


• Philippines
20 Apr 09
I like chicken noodles too with egg and the yolk is rare cook. I love the taste of the yolk when rare cooked.

• Philippines
20 Apr 09
i am more of the chicken tyoe of noodles. beef is too - heavy for me. heavy with seasoning that sometimes it gives me heartburn and causes me to throw up. lol i like seafood seasoning too. because of the spices. =)

• Philippines
20 Apr 09
Yeah I like chicken too, with poured egg. I eat it anytime of the day if there are no food that were prepared for me.