do you feel the only thing you do in life is paying money out

April 20, 2009 4:12pm CST
all i have on my mind just lately is bills,bills,bills.like next month its the mot bill then road tax bill.its my daughters birthday etc.then you sit there and think where am i going to get the money for those as well as the usual bills,then you start trying to work out how much it comes to.then there is panic.do you think the same
6 responses

• Ireland
20 Apr 09
Sometimes I feel like life is just one long bill

There are all the regulars bills and just when you think you are on top of them, another one comes out of the blue. It seems that we are just earning money just to pay it all out again. I think the key is just to have a good budget plan and try to stick to it


• United States
22 Apr 09
Well, I think everywhere we look things continue to get more expensive with everyone raising the Fees, etc. and with no end in sight you do need to scrape pennies sometimes to get by. Everytime you go to the Grocery store unless you watch the sales there is more money going out, and the utilities increase and you begin to wonder why. But in reality I look at it as as long as I have a roof over my head, and the bills are paid and God is in control it is up to my Trust in him to help me get thru things as well.

• Philippines
20 Apr 09
It happen to everyone i think. That really what we mostly do. Think for thing we're going to pay. Almost everyone of us pays for sometings. That's why money is really important for us. So your not alone. It happens to us too.


• United States
20 Apr 09
While I have stressed myself over them somewhat, no I don't feel that they are the only thing in life. I've lived in million dollar suburbs, I've lived in the ghetto, I've lived in my car of the parking lot where my friend worked. Times and circumstance both change. Panic will only lead to stress and depression. It's will and determination that will help change the situations.

• United States
20 Apr 09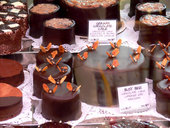 I have thought about what I wanted to do with my daughter's birthday next month. I had to budget in my bills to see about giving her $100.00 cash and that be it. Now after what happened in this house the other day. I can just budget my bills with no anger or stress. Then just hope and pray she gets a card with a quarter in it. I am not stressing my self over no bills. They have to be paid and I have to suffer the consequences if I don't pay them.

• Australia
21 Apr 09
There is an easy way to keep on top of bills. If you can pay your bills online through your savings account via the internet, this can help. First of all, check your bills to see if the numbers are the same that you would use. For example your power bills. See if the numbers all the same from bill to bill. Then look at how much you would spend on the bill if you were able to pay it each time you got paid. Just add a bit extra on top if the bills are not at a set amount. Go to your savings account and set up an automatic payment for each time you get paid, if you banking services have the facility. So for example, You get paid weekly. You also get a bill in for $100 every month, then you go and set up an automatic payment to pay $25 each time you do get paid. If the is 5 pays in one month then you will be ahead. But always calculate bills for only having 4 weeks in every month because it does come in your favour. It is something to think about. You can question if you can afford $100 every 4th week or afford $25 every week. I do this with 3 of the bills I have to pay. As I get paid fornightly, I have set mine up every fornight. Because there are times when there are more pays in a month. The extra money goes onto to the bill. I am in credit in all bills. There was a bill I got last May of last year. It told me I didn't have to pay anything untill November. As I kept on paying I have not had another bill in. I will be interested to see if I do get another bill in soon. Or should I say credit notice. The second bill I pay, I am that far in front as well, I can stop paying for at least 3 months. The third bill is in front but I can't stop for 3 months. It does make it easier to pay smaller amounts more frequently. As my bank does this for me, I don't have to worry about paying the bills myself. All I do is collect the mail when the bills come in and say, "No payment require" and have X amount of dollars in credit. My husband has his own bills and he is starting to work out that it is a better way to pay bills too. He gets paid weekly and has set up automatic payments too. He has said that it is alot easy. Just set and forget.