I Just Received $5.00 in my Paypal Account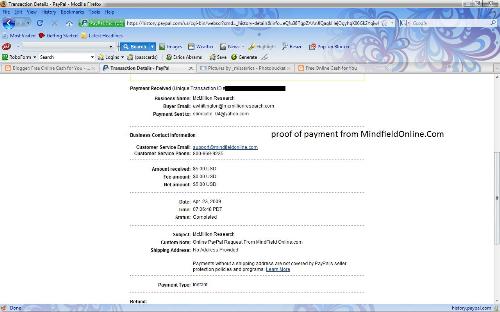 United States
April 23, 2009 12:51pm CST
It's a great feeling to log into you paypal account to see that you just gotten paid. I received $5.00 for completing surveys with Mindfield Online. I'm so glad that this site is not a scam. I'm a member of many survey sites but I haven't reached payout yet.If you like to complete surveys and would like to make a easy $5 send me a message and I can send you the link to join this site . HAPPY LOTTING!!!
8 responses

• Eugene, Oregon
23 Apr 09
Hi: I have personally, never heard of that site before. Is it a new site? I do surveys from Greenfield, pineconeresearch, surveyspot, and mysurveys. The only one that I have ever received payment from is pineconeresearch, but I have been with them for awhile. Greenfield is ok, but most of the time, I am not qualified to take the survey and that stinks. I just signed up with surveyspot and they work the same way as Greenfield as I am not always qualified to complete the survey. I just signed up with mysurvey yesterday, so I can't really say much about that one. I will have to try mindfield, as I do enjoy surveys, even though some can be quiet lengthy. It is just so hard to find anything online that will pay enough to make money, so that is why I do different things so it will all add up. and the ones I am doing are free, and free is a very good number lol.

• United States
23 Apr 09
I'm also a member of mysurvey I'm very close to receiving payment from this site but they haven't sent me any surveys yet. Sometimes it is very hard to qualify for this surveys but I never give and just keep trying. If you interested in joining Mindfield send me a friend request and I will send you a link have a great day!

• United States
24 Apr 09
Yes this can be quite exhilarating to find you have money sent to you. I see this almost every week now and most of it is from the free programs that I am a member of. The largest this year has been $23,00 and that was from Hits4pay. I get one for around 7.00 dollars every other month from Gomez and have been since 2004. So when I hear people talking that they can't earn any money online I just delete that comment and go on to the next. I feel if they are not earning online then they are not doing anything but waiting for the Eagle to fly over and drop it in their lap.

• United States
24 Apr 09
yep even thought it blurry that is my proof of payment would you like for me to send you the link to join

• Indonesia
23 Apr 09
Congratulation for you. May i know how many survey you've done for reaching the minimum payout and how many day it takes? Just my curiousity. Although it's proved as legit one but i hope it's not time wasting one. How much they pay for each survey? I just added you as friend and please pm me the link. Anyway, thanks for sharing. Have a nice day and happy mylotting.

• United States
24 Apr 09
i'm sorry its only for member of the us and canada

• United States
23 Apr 09
Cool I always like to hear that sites are good and pay. I have never heard of this site so I think I might check it out later today. Thanks for sharing this info and have a great day online and off!


• China
24 Apr 09
it is very important that you will get the payment feom a website.it's why we will sign in that site,we all want to make some extra money from internet,so when we get the payment,wo are feeling so happy. can you give me the link?i also want to get some money from the website,maybe we will get more from that site.waiting for your link.

• United States
23 Apr 09
It is isn't it! Congrats on your earnings:) I've gotten paid from other survey sites and I'm also a member of mindfield.

• India
23 Apr 09
Is this site for people around the globe or Just for US citizens ????