Hello Kitty!!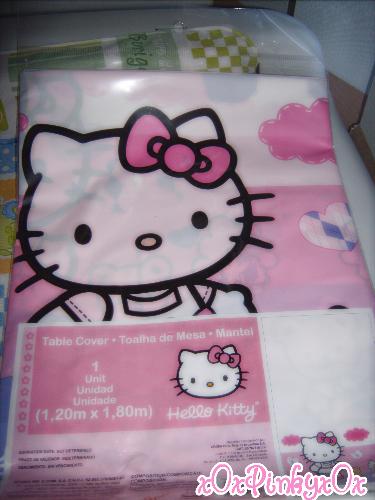 Brazil
April 23, 2009 1:00pm CST
I love Hello Kitty!! And my daughter is turning 1 year old in june, and I'm buying everything for a Hello Kitty themed birthday party! It is still a long time till her birthday, but I started buying everything the beginning of this month to make sure I have everything! I bought gift bags, a table cover, a center piece, Hello Hitty decoration, balloons, and a Hello Kitty candle. I still need to buy the plates and cups, I'm making a Hello Kitty cake, and cupcakes by myself. So, do you have kids did you ever throw a party for them with a theme?
2 responses

• United States
23 Apr 09
You know what I think would be darling? If you made the cake out of cupcakes that you arrange together to make the Hello Kitty face. That would be so cute! I love Hello Kitty it has been around for a long time and I think recently they started coming out with different names and colors of "Kitty's" I like ChocoKitty. Good luck with your daughters party I hope you have tons of fun with it the 1st birthday party is always the best one. Get lots of pictures so you can show us


• Brazil
23 Apr 09
That's a good idea, but I found a video on youtube, and I want to make that cake so bad!! It's a carved Hello kitty cake, and it's so pretty!! If you like you can search youtube for " making of Hello Kitty cake" it's really awesome, and then I'll do the cupcakes with the Hello kitty face on the middle and colorful sprinkles around it. I'm really excited!! lol it feels like it's my own birthday lol (I don't do this kind of stuff for myself anymore...I'm too old, lol)

• Canada
23 Apr 09
Oh wow pinky the cake sounds really neat, I will have to go on youtube and see if I can find the video! I do agree with Amberina ... get LOTS of pics!

• Brazil
23 Apr 09
hehe, let me know if you find it! It is an awesome cake, I'm gonna try to make it exactly the same, and of course I will take millions of pictures!! lol It's her first birthday I want to remember it forever!

• Canada
23 Apr 09
Hi pinky! The Hello Kitty them that you are doing for your daughter's birthday sounds really cute! My daughter's birthday is in June too and she will be 3 years old! She loves Sponge Bob, and she loves Dora so I will have to pick one of the two! I think I might go with Sponge Bob!

• Brazil
23 Apr 09
My older daughters love Dora too, but they live with my mom in Boston. The last birthday party my mom did for my oldest was a Hannah Montana themed party, she loved it, she even bought a blond wig. It was really cute! But I'm really excited about her first birthday!! I can't wait!!

• Canada
24 Apr 09
I don't doubt that your excited, I know I was excited for my daughter's first birthday! Actually I was excited for her 2nd too, and now her 3rd :) I don't think the excitement ever goes away!