God's Sense of Humor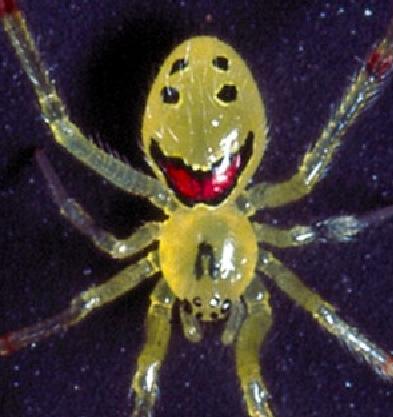 United States
April 24, 2009 6:39am CST
God does indeed have a sense of humor. It was suspected when giraffes walked about on stilts with sky high necks, rumored at the sight of birds at courtship with their zany dances, but now it is confirmed. * How is Godly sense of humor confirmed? It is a living spider with a God given smiley boldly emblazoned on it's back. At first sight, it looks as if you've a photoshop image on your hands, however, scientists in Hawaii disprove a photoshop. *
5 responses


• United States
26 Apr 09
Echidna-Or Australian Spiny Anteater gives it a run for it's money. That's the funniest darned critter I've ever laid eyeballs on...other then the laughing spider. http://www.anbg.gov.au/anbg/mammals/echidna.jpg

• United States
24 Apr 09
That spider is an even better example of God's sense of humor than both the giraffe and, my personal favorite, the platypus. The platypus looks like he was put together with left over parts.


• United States
28 Apr 09
ROFLMFAO OMG thats too damn funny!!

• United States
29 Apr 09
Makes one wonder if there is a thinking being at the helm...or web.

• United States
25 Apr 09
Yes, if we think about many things in the natural world we must know that God is smiling at us. I have often thought about how I would explain things to an alien. Someone who has never been to earth before would find many things very strange.

• United States
26 Apr 09
Yes, mammals that lay eggs, mammals that fly and live upside down, mammals that never leave water, then there's us, mammals with no natural defenses at all that rule this planet...hmmmm