South Park / Pandemic II: When PIggies Attack!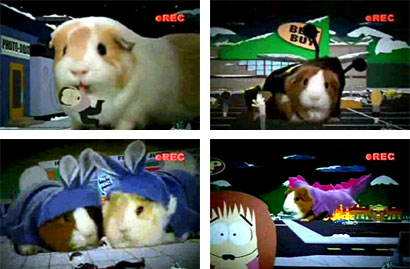 United States
April 25, 2009 4:26pm CST
Last night one of my cable channels aired the Pandemic II episode from South Park. It was the first time I saw it and I was rolling. It was one of the funniest episodes and it was full of guinea pigs – real piggies not animated. Have you seen it? They have them dressed up in costumes and they look so cute. The pirate and dinosaur were the best. You can watch the full episode called "Pandemic II: The Startling". The original date it was aired was 10/9/08 so it isn't all that old. The official description from the site is " Giant guinea pigs are attacking cities all over the world. The boys have the key that will save everyone from the onslaught but they're stranded in the Andes Mountains." There isn't a way to direct link to it but you can find it at the South Park website: http://www.southparkstudios.com/guide/1211/
2 responses


• United States
4 May 09
I wanted to dress my piggies up after seeing that episode. I haven't had Hulu freeze yet, but I've only watched like 3 episodes of shows on there so far, so that's not much of trying it out. Maybe I'll watch something else tonight though since I just finished my midterms for now! Yay! Thanks for the best response!

• Australia
26 Apr 09
Sounds funny, I'll chech it out. Haven't seen mmuch of South Park, but some guys at work reckon it'e the best.