I have been paid!!!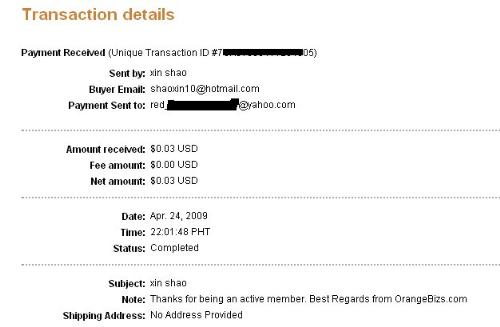 Philippines
April 25, 2009 5:45pm CST
Yes I have been paid by orangebizs. It was just a really small amount but I was happy. I never expected that I will be paid. I requested Tuesday last week, and when I check my paypal account on Saturday morning, there it is. $0.03 additional.

quite small but now that I know that they are really paying, I click ads there more often. Who among you are members of the site? have you been paid also?


I have also attached a payment proof
7 responses

• Hong Kong
27 Apr 09
hello red_amethyst So glad to hear you got paid! And thanks for your sharing. I make up my mind and am going to read their TOS. Happy myLotting~

• United States
25 Apr 09
Congratulations on your payout! I haven't tried orangebiz but I have heard of it. Maybe I will go to it now that I do know they are a payer.

• Australia
26 Apr 09
I am a member of orangebiz. I have been paid 16 times. The amounts are small but it contributes to total paid from all sites. Withough orangebiz, I would not have got an extra $1 from them.

• Hong Kong
27 Apr 09
hello chookie1971 16 times? Orangebiz becomes interesting to me again. How long have you joined orangebiz, may I ask? Thanks. Have a nice day~

• Australia
27 Apr 09
It is not the fastest earning site I am on but I have been with them around November/December.

• Hong Kong
6 May 09
Hello chookie1971, Thanks~ Not very long ago but 16 times!! That sounds very good.

• Philippines
26 Apr 09
well that sounds good my friend!! you should keep up the good job and earn more!!ü have a good day..ü

•
26 Apr 09
I know, no matter how small the amount is but it is very important that the sites which assure that should not betray and pay us, this makes us believe that there are some sites which actually pay our hardwork.these days i am working for a new site dont know that it pays but still i am trying my luck there, hope things turn betterr.

• China
26 Apr 09
I'm not accept,because I come from china.

• Singapore
26 Apr 09
Yeah, i'm a member of orangebiz as well ^_^ I have been paid quite a number of times by them too, and they do really pay.. hehe ^_^ Most of the time, i will wait till i accumulate 0.10 before i request for my payouts.. hehe Though earnings are small, like u say, but it's still money after all.. ON top of that, it's no minimum payout from them every week, and so why not that site?? haha =D