PAMELA ANDERSON VS PARIS HILTON

United States
November 11, 2006 9:22am CST
WHICH ONE WOULD YOU WANT TO SLEEP WITH?
4 responses

• United States
13 Nov 06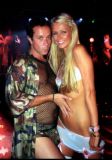 hummm...well I would say...deff Paris..she has that sexy, seductive classy thing going for her..and I love Pam and all but she has that STD..and i wouldnt wanna get that sh$t!! lol lol

• United States
13 Nov 06
I had a crush on Pamela Anderson for years when I was a teen. I thought she looked like a Goddess. When she ran on the beach and her boobs jiggled I was in puberty heaven. I still think she's hot and certainly more hotter than Paris Hilton who is a little too skinny for me.

• Saint Vincent And The Grenadines
13 Nov 06
I'd stick my d1ck in Scott Storch's girlfriend cuz Pam got an STD and Paris actually looks better.

• United States
11 Nov 06
well considering that i am female and i do nt swing that way the question would be neather but Pamela is fake and Paris is real so which would you pick fake or real???