Gift visa To paypal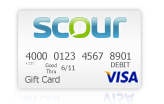 France
April 27, 2009 9:05am CST
Hi, I found a site who gives visa gifts to you, can I take the money by paypal, alertpay or moneybookers?? If yes how?
4 responses


• United States
27 Apr 09
Well, different sites have different rules on payouts. Chances are the site can only pay via visa gift. However, I would be very cautious about giving out personal information like address after all they have to send the card to you. This can really increase your spam level in your home mailbox. From the sounds of this site, I would question its integrity.

• Indonesia
27 Apr 09
It depends on what the gift exactly is. Maybe just sponsored by visa. But i think it just a coupon and can't redeemed into cash. You'd better contact the site admin and ask them about the gift. Good luck and have a nice day. Happy mylotting.

• United States
27 Apr 09
If the site only offers a visa gift card then i would assume you could not accept the money by paypal or any other money offering site. You would have to ask the website you are earnings the money on directly and see what there options on with sending you the money. Mylot does not offer a visa card to anyone but only offers you money through paypal and that is it. I'm not sure what website you are talking about at all and would have no idea if they offer another way of earning money. Enjoy Mylotting