T-Shirt Designs

Canada
April 27, 2009 2:49pm CST
What's the funniest T-Shirts you have seen? Here are some of my favs: Knights who formerly said Ni: http://www.thinkgeek.com/tshirts-apparel/unisex/popculture/a9f6/ Hello My Name Is Inigo Montoya: http://www.thinkgeek.com/tshirts-apparel/unisex/popculture/9f70/ And now for something completely... um wrong?: http://www.cafepress.com/ivxx_apparel.38651934
3 responses

• Australia
27 Apr 09
I saw a guy at the supermarket one time wearing a t-shirt that said "Call your village, they want their idiot back!" and one of the t-shirt slogans that really got me laughing (and embarrassed at the same time) was on the shirt of a woman standing with me in a fast food store line. She was very well endowed up top and was wearing this tight black t-shirt with tiny writing on it in white. I kept trying to get close enough to see what the words said and when I was finally within reading distance, there it was - "Stop staring at my t*ts!"

If I was to get a slogan put on a t-shirt, it'd say "Honk if ya love barmitzvah's!"

There's a market out there for sure!


• Australia
27 Apr 09
Oh I got busted reading that shirt too! lol. Of course, I was trying to broaden my vocabulary only at the time and there were no crude thoughts on my part at all.

And yes, a bumper sticker would be MUCH better, but we're talkin' clothing here! Maybe we can honk the nose of the person wearing the t-shirt?


• Canada
27 Apr 09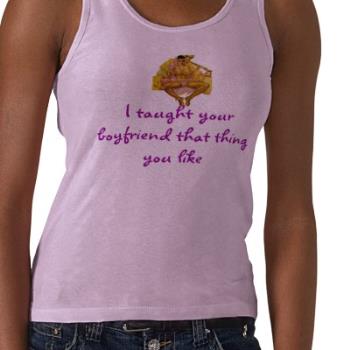 An online acquaintance of mine had the BEST bar t-shirt that read, "I taught your boyfriend that thing you like".


• Canada
27 Apr 09
One of these years I'll have the guts to wear a shirt like that out in public. The only problem is, I'd have to be more of an attention wh.ore to do so.

• Canada
27 Apr 09
our youth pastor wears the funniest t shirts. i guess my favourite is the one that says 'its simple, but sort of complicated'. he has a cool one from the israili police deptment that friends of his (and ours) brought back for him last summer too.