I took my great niece up to see her Great Grandma. Do you make the trips fun?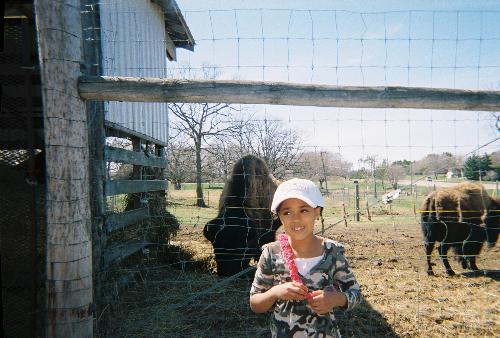 United States
April 28, 2009 7:42pm CST
I took my Great niece and my sister to vist my mother. We only had 152 mile to drive but I made it a fun trip. with lais and all. We stopped at this truck stop that has a great reasteraunt in it. It is called the Brothers in ClearWater MN. We ate and got these huge muffins and my niece played in the arcade. Then I tried to show her how to switch arms with holla hoop at my Mom's. Do you ever take longer on a trip just to make it fun? I hate to rush. We had a blast stopping here and there looking at nothing but open space and cows.

We went to see the buffalo in Wadena here is a pic. of that.
10 responses

• India
30 Apr 09
This sounds like great fun! I would love to be a part of such deliberately extended trips. I love traveling and nothing like continue on it when I have time. I have always the inclination but time doesn't allow me to indulge in the love of my life. I still make sure to do them.


• United States
4 May 09
I do it as it is relaxing and why rush to what? to sit and have coffee and lunch. Nope I want to have fun or why bother. My Father used to rush all the time and my mother set him on the right track. And he enjoyed the rest of his life as he passed on at 62. So slow down and enjoy do it for you. Have a nice day.

• Holiday, Florida
20 May 09
thats wonderful. i went on a couple of fun trips. it would be nice to see buffalos. when my hubby was alive we went on many great trips together. i miss that.

• United States
20 May 09
I take trips with my son and now we don't get to go as much as he is working and has a girlfriend. So now I go with my friend and then my great niece and my sister if she can get away. We did have fun. next time I want to do a fishing trip with her maybe. See what she has to say. As she does get bored fast so I do small trips and then ok home we are going. You have a good day. Your friend Onlydia

• United States
5 May 09
I like to have fun and take my time. The problem is a lot of the time that my husband is in a rush to make it there in a certain amount of time. Personally, I prefer to take 2 more days so we are not rushed and can actually enjoy ourselves.
Have a great day and happy myLotting!!!


• United States
20 May 09
Yes I like taking my time. Unless it is a must have to be there trip. Then that is different but I still make little stops and make sure that I enjoy them. As I feel if I have to rush then why get there all stressed out and needing a nap. You have a nice day. Nice to see you.

• Australia
29 Apr 09
that is really nice... the pic of your great niece is also very beautiful... it is very nice when you don't have to rush and can do travelling in your own time... i would like to do that as well some days... i had done a 12 hours travel as well from melb to sydney by driving... but we don't have many chance to stop and have fun along the way as we are rushing for time... take care and have a nice day...

• United States
30 Apr 09
Thank you we stop on the side of the roads. Pull off by a field and have a good old time having lunch. I learned that from my GrandMother bless her heart. And then my Mom who told my Dad that is what we are doing from now on. And she never talk back to him so not laughing was hard. Stop rushing there is nothing that can't wait. Unless your having a baby then hey you could pull over for that in the end. You have a great day. It is 2:16am here where I'm at. I have to get up at 5:00am well not anymore. More like 6:00am. Have a nice day/night

• Canada
29 Apr 09
we do. we go to an outlet mall sometimes and it is about an hour away and to get there, we take the highway, but on the way home, we go the scenic route and it takes by the shores of a very large lake. it is nice to see the parks on this lake and watch the people. also this area has a great number of very large houses and it is nice to see how the other half lives lol.

• United States
29 Apr 09
Oh yes we do that every once in a while as well. I don't care for the mall but I go and she has fun I get a headache. But it is worth it. We are going to go to the Zoo sometime after it gets warm. That should be fun. I don't do rides and my sister said and we can do all the rides and I looked at her and said and who is paying for this? As I'm laid-off and doing things that don't cost alot or nothing. But my sister is always like that. So now when we go she can deal with why can't we ride the rides. You have a good day.

• Singapore
29 Apr 09
aw that sounds like so much fun! the last time i ever took a trip was when me and my boyfriend spent 4 hours driving to his parents place. i was pretty nervous because it was the first time i was going to his house, so i kept stalling, even he knew i was trying to stall him, I'd ask him to stop for ice-cream and bathroom breaks and snack times or that i would like to buy a shirt or stock up on something and when he realized i was stalling he told me not to worry, and that he knows im stalling because im nervous, he told me i was beautiful and kissed my forehead, he made me feel so much more calmer than i previously was, i only wish i could have held on to that moment forever, so when we finally got to his parents house, he's parents turned out to be great people and im not sure whether his sister likes me but i know the rest of his family does. needless to say it was such a fun trip. if only more trips were to go like that. simple unplanned trips. oh well. god bless you and your family. cheers love.

• United States
29 Apr 09
I hate to hurry, too, there's so much to see and do on a trip! That's why I hate driving with anyone, they never want to stop to see the "killer clam" or "The Thing". I stop for all those sideshows, they're so entertaining and funny.

• United States
29 Apr 09
I'm glad you had a blast with your niece Dia. Yes, I sometimes like to a take longer trip on the road sometimes, like stopping and eating a restaurant along the way or have a picnic at a pretty rest stop or visiting a gift shop and taking in all the sights and sounds of small towns along the way. But I do have a friend that I travel with sometimes and she doesn't like to do these types of things, she's all about getting to her destination as fast as possible and she doesn't like to stop for anything, not unless she's running low on gas then she HAS to stop at the nearest gas station.And when I have to go to the bathroom on the road she's like " Hurry up!! ".. But I know kids have so much fun when there are fun stops a long the way. Your niece will always remember her trip with you and how much fun the both of you had along the way to see your Mother.


• United States
29 Apr 09
Yes thank you very much. We had a blast and a half. My father was like that get there no we are not stopping. I hated it. There are times when I have done that as we had to get there. But I never have kids with when I'm in a hurry and if I do we stop. They say I have to and I'm stopping. YOu have a great night.

• United States
29 Apr 09
I have done that and plan on taking a road trip as part of my vacation in June. I am going to try to convince my sister to go with me to Watertown S.D. to see Terry Redlins gallery....he is my favorite painter....and take our time etc. just seeing the sights.....sounds like you had a great time!

• United States
29 Apr 09
Oh yes we did. I acted like I was 7 and we had a blast. They really did laugh when I pulled off and did a dance and then got back in and got back on the freeway. We had to stop to look at cows for my niece and she went where are the Horses? We laughed and told her not everyone with cows has a horse. She said that makes no sense. We had a good laugh. You have a great night. Your friend onlydia

• United States
29 Apr 09
Oh, that is so fun to take a nice, lazy trip. One where you don't have to rush to get there. My daughter and her husband live 181 miles away and I make it a habit to go see her once a month. I never rush. I stop to do different things along the way and always have someone with me to enjoy the ride with.

• United States
29 Apr 09
Yes it was so much fun. I has a rule have to pee we stop. Need to look about we stop. Need to dance we stop. They had a blast and luaghed so hard when I pulled off the freeway to no where got out and did a gig and got back in. It was fun. So we did have a great time. Have a good night