Did you celebrate 420 in 2009?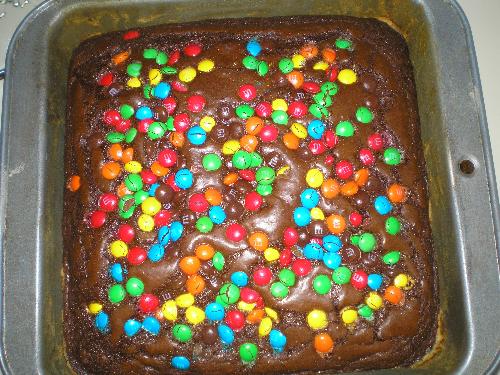 Canada
April 30, 2009 10:01am CST
Happy belated 420 for 2009!!!
This year, 2009, was my second consecutive year celebrating 420. And just like last year, I made some special brownies (see the pic I've added to the discussion). And let me assure you, they work and are YUMMY!

Sadly, I celebrated 420 on my own this year. But it's alright, I still enjoyed it.

All I did was eat one brownie, right at 4:20pm. That was good enough for me for the night. lol. I have some leftover ingredients, and will be attempting to make some peanut butter cookies in the next few days. If they turn out good and freeze well, I'll have to make some for next 420 along with the brownies. Only hopefully by next year, I won't have to celebrate on my own.
Did you celebrate this year? If so, what did you do? Did you celebrate on your own or with friends? Is this an annual thing for you?
8 responses



• Canada
1 May 09
you must have mature content turned on then. I am not sure how to say it without invoking the wrath of the MC tag.... It is for connoisseurs of the Lady Mary Jane, patron saint of Ganga to protest the governments attempts to prohibit the use.... hopefully you can read and understand that LOL. (I know it is a tad cryptic)



• Canada
4 May 09
paranoid and stupid, eh? I'd LOVE to be around you that way... I have TOO much fun with the paranoid ones. I like to go up quick to them and say "BOO!!"... isn't that right Myrrdin?? hahah!


• Canada
5 May 09
I'm not an every day kinda gal for 420 either. For other things... well... that's for a different mature content discussion. ROFLMAO!!


• United States
12 May 09
i celebrated 420 all year up until i got pregnant. im 5 months now so no i did not get to enjoy this holiday =( lol but thats ok.

• Canada
12 May 09
Good for you for holding off this year.

You'll have ample opportunities in the future to celebrate again. And congratulations!!

• United States
18 Jan 11
Excellent! Made the right choice.


• United States
5 May 09
420 is my anniversary, CG! This year, however, I was stuck in Rolla for it, because the Greyhound bus I was planning on boarding was completely full. Bummer!!! But I enjoyed the day anyway with my sisters and mother. Not in the way I would have done, but still, it was a good day...that is, after I got over being furious about the situation, which was only counterproductive, so I sucked it up and put a smile on my face. What could I do anyway? Right..nuttin. The hubs and I had a wonderful day on 421, but it just somehow wasn't the same......

• United States
5 May 09
Ooops, I forgot to say that this year marked our 14th anniversary. Ha! ANd they said it wouldn't last...........


• Canada
5 May 09
Oh that's right! I remember you sharing how 420 is your anniversary last year.

Happy Belated Anniversary hon!!! I'm sorry you had to do a 421 instead of a 420 this year.

But kudos to you for sucking it up and making the best out of it! If you hop on a greyhound to London, I'll share some brownies and other stuff with ya.


• United States
5 May 09
I wanted to, but the boyfriend doesn't come over during the week (and he actually had to work late that day anyway)

. I wish it would stop raining--that's what I've been planning to do while we still have an opportunity (my dad's house is vacant and quite remote). The peanut butter cookies sound yummy--please let me know if they come out!


• Canada
5 May 09
I still haven't gotten around to making the peanut butter cookies, but I have all the ingredients ready to go. It's best that I do them sometime when my sons are NOT around... b/c the last thing I need is for them to be asking to have some!!!


• Canada
3 May 09
what is 420, I don't know what that means.

• Canada
30 Apr 09
Darn it! I was so busy around the farm, that I forgot about 420 until just before last weekend, actually. But, as it turns out, we did end up having a good rip-roaring weekend-long party last weekend, which was close enough to the date to qualify, don't you think? We didn't plan it, it just kinda happened. There was much 420 material served continuously, of course. And a VERY HAPPY 420 TO YOU, TOO, MY FRIEND!!!

• Canada
30 Apr 09
Better late than never, that's for sure! May the festivities continue for us all between now and the next 420 too!