Do you make cards?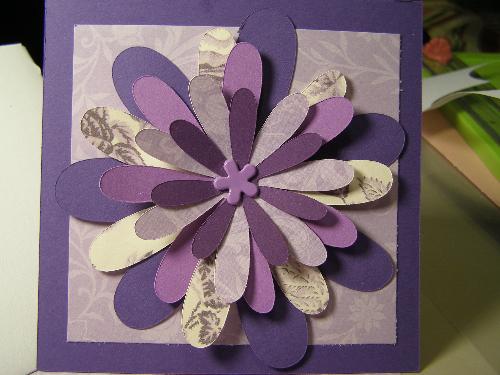 United States
April 30, 2009 12:54pm CST
I have just started making cards. Here is my latest one that I listed on etsy this morning. I just finished it this morning I love it!! What do you think? Do you make cards or just buy them?
6 responses

• United States
30 Apr 09
Very pretty! Great combination of shades

I rarely buy them anymore. I hate to say it unless it's for someone whom I don't see often or am surprising I usually don't buy them anymore. Though my MIL buys them like crazy she's got a big ol' box of misc cards she's collected over the years.

• United States
30 Apr 09
Thank you. I am having fun making cards. Hope some of them sell. I have a box my grandmother had that is full of the ones she bought over the years.

• United States
30 Apr 09
Then I take it, it's perhaps common to collect the cards until you need them? I know I used to keep sentimental ones.

• United States
30 Apr 09
Lots of people "hoard" cards lol.

• Denmark
30 Apr 09
I like your card, I think it looks great and purple is my favourite colour

I always enjoy to see the cards that other people have made, because I make cards myself. My cards are a usually a kind of collages. I like to combine pictures in an unusual way and I like to create cards that are funny or just different. I sell my cards in a my online gallery. I have some friends who also make their own cards and some of the cards are really beautiful. I usually buy homemade cards from my friends or make my own cards, I hardly ever buy cards in a shop.

• United States
30 Apr 09
Thank you so much. I am enjoying making cards and sitting thinking of different cards to make. I just got some new stamps in today and got them unmounted and they are ready to use. Now got to make a card lol.

•
2 May 09
Home made cards are so much nicer than printed ones. I generally don't make them myself, but I do get the kids to make most of the greetings cards that we send. They're much more personal and their grandparents love it! Yours is beautiful and very clever. I never seem to have the inspiration for a nice design at the right moment.

• United States
2 May 09
It depends on many things. Such as if I have the materials at home, or if I have time. I've been so crazy lately with school and all of the things going on with my son and everything that I simply haven't had time to think much less make cards, so I've been just going to the dollar store and purchasing them.

• Boise, Idaho
30 Apr 09
What a cute card! I love your craftiness. I wish I had a nack for that sort of thing. It is sort of weird but my mother was artistic like that and my daughter is but was left out when they passed around the talent in that area. I guess I would have to learn more about how to use a printer and all. I have seen some great printing packages with all that included on HSN. Cool.

• Canada
16 Sep 09
I used to make printed cards on the computer, but since I have not had a working printer for a few years now, I have stopped doing that. Once we get my printer hooked up, and filled with ink, I will definitely get back to making cards, My husband is going to network the printer with both computers.