Tree fell in our yard this morning...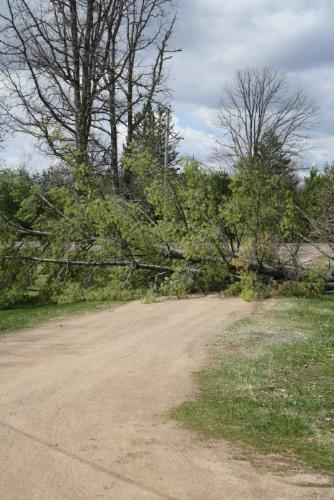 United States
May 2, 2009 1:52pm CST
My boyfriend and I had been asked by my grandfather to go outside and pick up sticks in the yard this morning so he'd have them to mulch and they wouldn't be in the way. We came inside from picking up sticks at 10 and sat down for a bit before I went to take him home. At 10:30 we looked out the living room window to hear a crack and see a huge tree on the side of our driveway fall over and block off the driveway preventing me from taking him home. We got lucky - somebody who is a logger drove by and drove home to get his chainsaw before pulling into our driveway and asking us if we needed his help clearing the driveway. In the process - my grandfather asked him to cut down another tree and the guy offered to do it for only $50. So we started our morning picking up sticks and now have two huge trees and all their wonderful branches down in our yard. Yesterday was my day off having fun, today I work at 2:30 - and I have another day off tomorrow which will be spent cutting up and hauling wood. Yay me right? My boyfriend is coming over to help so that's okay. Anybody ever have a tree fall in there yard? Was it blocking your way or did it fall on something? What did you do to remove it?
5 responses

• United States
5 May 09
Wow you had quite a day! I can thankfully say I have not had that experience but a tree came down in the street out front once during hurricane season and one of the neighbors got his chain saw and cut it up. I got my dad to cut up one in the yard of the house where my mom had lived after Katrina when I was moving her stuff.

• United States
6 May 09
One year we had a tree catch fire from being hit by lightning and we discovered it was rotted to the core. It had a huge hole in it like a donut.

• United States
6 May 09
Wow, good thing these trees don't fall on the house!

• United States
8 May 09
Yeah, trees used to scare me when I was little because I was scared they would fall on the house. Until now I hadn't seen any fall anywhere near the house - but then that one fell in our driveway. And of course there was our flaming donut. :P

• India
8 May 09
Great the guy helped you out. So sweet of him. Well we actually didnt have a tree fallen and blocking the driveway but we had one which so infected that it would fall anytime and in position that one of the houses would have been destroyed. So we just got someone to cut it down. Now all is fine.

• United States
8 May 09
When the tree fell me and my boyfriend were in shock but all my grandpa had to say was "Too late Jim." Turns out my Uncle Jim was supposed to come up with his chainsaw to cut it down in June.

• Indonesia
3 May 09
yes i ever have a same problem like you, trees fell in my front yard and block my way, i cant go to work...but i'm still glad cause there is no victim felt by this tree

• United States
6 May 09
Yeah - we got lucky not to have been hit by the falling tree.

• Canada
2 May 09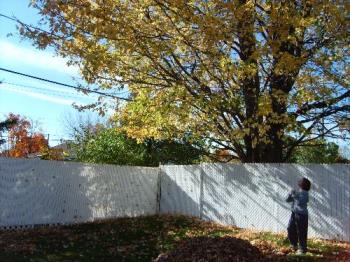 I'm actually really worried about this... my next door neighbor has a HUGE maple in the back yard. I bought my house from its original owner (it was constructed in the late 50's) and she told me that, when the tree was originally planted, she told that former owner that it was way too close to the property line and asked if they would please move it. They refused and said it "wasn't going to be that big." Umm... it's a
maple
... they get BIG. In fact, I'll try to attach a picture I happen to have and it's from autumn 2007 - so the tree has had another year and a half to grow since then. You can't even see the full height in the picture. We had a severe ice storm here about 10 years ago. I lived in the country then and saw really big trees break and fall like toothpicks. During the winter, especially, I worry about my neighbor's tree falling on my roof. Thing is, most of the tree is now in MY yard. There are more branches/overhang on my side then theirs. I had a new fence put up and, as you can see in the picture, the installer had to create about a two-foot deviation around the tree trunk. New people just moved in to that house last summer. I don't know them at all and have never had occasion to speak to them. I am not even sure if they know that the tree is their responsibility as it was planted on that lot. Each spring, I trim off whatever branches I can reach on my side but it's pretty much pointless given the overall size. I've thought about calling the city and having them send an inspector. There's a point where trees do become a hazard and I suspect this one might be. Worst of it is, I
love
the darn thing LOL It's a
beautiful
tree and, given ample space, I would do absolutely nothing but enjoy it. At this point, I can't have a pool because the original owner had her liner pierced repeatedly by the roots (she gave up years before I bought the house) and I'm even getting concerned for my foundation. I also know it's very costly to have a tree of that size removed and I can't afford to do it... especially since it's not my tree. I'm concerned about creating a bad relationship with my new neighbors if they feel like I've "reported them" but I'm not in a position to offer to pay them towards removing the tree. Although, if it causes serious damage to my home... that's not gonna be cheap either... UGH.


• United States
3 May 09
I wouldn't be afraid of it falling because maples really root themselves down. However, if it gets any bigger - the roots or the branches could become a problem for your home. I suggest talking to your neighbor and mention the concern for BOTH of your homes. Talk with people at the electric company about it crossing with the wires - and talk with your neighbors about the maple. Tell them that you love it but you are concerned for your home and theirs as maples do get rather large and it could become a problem. Make sure they know that you know it's not their fault and neither of you lived in the homes when it was planted and you are not pointing any fingers, you are just trying to come up with a solution for everyone. Maybe there is something around that can help with the removal or trimming of the tree without you having to pay for it. Like if it is a code violation - the owners right now didn't create the problem so it shouldn't fall upon them, maybe the state or such will cover it.

• Philippines
18 Apr 13
in my province it still never happen to me,that tree will fall and will be the reason of being stuck in the road or no ways to vehicle to past by,but here in the city where i live,there are old post of electricity that sometimes fell,and to remove it they will call a truck that will hang it up and put in the side of the road.