i was shocked by abusive language by toddlers!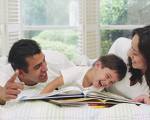 Philippines
May 2, 2009 9:54pm CST
Many of us feel that we have to provide the best life for our children, so to satisfy this desire of being the best parent.we also tend to forget that there are some things that we have to attend to. In a way, we neglect to correct our children when they have wrong attitudes.The way a parent reacts to the child in any given situation determines the child's character, because they copy the behavioral pattern of their parents. I often hear abusive language in my school from toddlers who do not know the meaning yet they know when to use them, its a pity that they picked it from their parents. Parents are supposed to play the role of a teacher, a guide, a friend, along with their role as a parent to avoid the behavior problems in children. what's your opinion on this?
4 responses

• United States
3 May 09
Yeah I try to be a good role model, thought I was doing a good job too until my 3 year old daughter was acting up in church and I told her to stop and she responded with a very loud, very clear, Sh*t!! Whoooops . I think we can all only try our best, but they're bound to hear a thing or two somewhere, if not on t.v. then from a friend, ect.

• Philippines
19 May 09
yes many people really use foul words. they can't make a sentence without it. children easily copied that. we can't watch them anytime we want especially when they're in school or with friends. i think constant reminder would make a start.

• United States
3 May 09
Well the parents obviously do not tell their children that what they heard is an inappropriate word, or something only adults should say - and then again that is really dependent on how you feel about it. Some people feel that NOBODY should say words like that, and I actually don't agree with THEM either. I purposely do not choose to have my daughter around people who cuss like sailors in daily life, folks who intersperse a NORMAL conversation with a lot of f-bombs and other bs. When a cuss word is an APPROPRIATE response to something or said for shock or other value, I don't have as much of a problem with it. When there is a REASON to speak like that, it makes sense. When there is no reason, I consider someone to sound like trash, not understand the proper social communication, possibly be uneducated, etc. I don't believe that makes me a snob either, I just realize there are reasons behind what we all do, and it's better to have a reason than to just say things in crude ways 'just because that's all you know'. I was raised better than that and I expect my kids to learn and know the difference between situations where it might be appropriate and where it clearly isn't. At a school and in front of adults it is CLEARLY inappropriate and should not be tolerated by anybody, teachers, administration, other students, or the parents.

• United States
3 May 09
Yes I completely agree with you. Although there are times where children do NOT always pick up fowl language from their parents. It is just so easy to place this on the parents because people dont want to bother to realize there are other people in their lives. When I was 2 1/2 my regular babysitter was sick so my mom used that lady's daughter. Well her son was 6 at the time and always used the "F" word. Well, for a week I kept walking around saying "Fue you" as I couldnt say that work correctly. Finally my fingur got bent backwards and was told if I ever used that word again and held that figure up again it would be broken!! I never used it again. So, that's a perfect example that it's not always the parents that get these bad habits passed to their children. It could be the late night babysitter or even a friends child. I do believe that parents should be careful of what they say and how they act because it does reflect onto our children.

• Philippines
3 May 09
[b][/b]Discipline and good behavior always start from home and parents should always be a good role model for their children, as one commentor said children are good immitator and copy what they see or hear not only at home but specially outside,like in school, playgrounds or from other kids too, so parents must always be alert if the kid do or said something that's inappropriate, it must be corrected immediately that the child will know that it is not right and will not do it again.