I want to learn SPANISH. Any help ????

Guwahati, India
May 3, 2009 9:58am CST
Hi Friends.. Right now I can speak and read as many as 7 languages. Learning languages is one of my prized passion. I teach linguistics and this has provided me with a privilege of knowing English phonetics and hence I hardly miss pronounce English words. Even if I get slip my son reminds me that I was wrong pronouncing the word. This is a feedback that I taught my son who is 7.1 years old. The the matter is I wish to learn SPANISH Language. Would any one tell me how I can learn on line or any other way. I know there are many here whose first language is Spanish and also those who are well versed in this Language. Just lead a kindly light....
11 responses

• United States
4 May 09
Rajib- My husband can speak Spanish fairly well, you may want to find him on here if you want someone to practice with. I'd say if you're looking for an interactive version, Rossetta makes some really nice products in terms of languages. Namaste-Anora

• Guwahati, India
4 May 09
Thats great Anora, how can I make contact with him? It would worthwhile if there is an interactive session. Surely I will do. Thanks again.

• United States
4 May 09
Rajib- He's on my friend's list under Awen_Eldorath. Rossetta, as mentioned by another is a really good program. Namaste-Anora

• Guwahati, India
4 May 09
Hi Anora, I have sent him my friend's request. Thanks a lot...

• India
25 May 09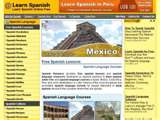 Hello my friend Rajib Ji, Following links would help you to solve learning SPANISH free on line:- http://search.live.com/results.aspx?q=learning+spanish+on+line&src=IE-Address&Form=IE8SRC http://www.studyspanish.com/Learn Spanish If you want to learn to speak Spanish, you've come to the right place. Getting Started With so much free material for learning Spanish (over 1,000 pages!), many people want to know where to begin. Learn more. Beginner Spanish With our Spanish course you will learn to speak Spanish conversationally, while making the most of your time. Learn more. Intermediate Spanish Do you already know some Spanish? Intermediate speakers usually have the same problems. Our Spanish lessons can help! Learn more. Advanced Spanish Is your Spanish advanced, but you want to maintain and expand your abilities? We have a program just for you. Learn more. Free Spanish Tutorials Spanish Pronunciation| Spanish Grammar| Spanish Vocabulary| Spanish Verbs| Travel Helper| Directory of Spanish Schools| Daily Word| Cultural Notes| Idioms Speak Spanish Conversationally! Did you study Spanish in high school or college, but never achieved conversational fluency? If conversational Spanish is your goal, we have the solution! Learn more. Get a Better Grade in Your Spanish Class If you're currently taking Spanish classes and are looking for some extra help, there are three distinct areas that you will need May God bless You and have a great time.


• Guwahati, India
25 May 09
Hello jee, Thanks a lot for this information. You are really good and helping soul. Thanks again.

• India
25 May 09
Hello my friend Rajib Ji,
You are always welcome. We are thinking to visit your home town. It is in our pipe-line. May god bless You and have a great time.


• United States
5 May 09
Have you thought about getting one of those CD language courses? I recently bought one of the ones you listen to in your car only I haven't been listening to it that much so I haven't learned yet.

• Guwahati, India
5 May 09
Hi Canellita, you mean the ready made stuff? Would they really serve the purpose? I have doubt for there is the question of pronounciation.

• United States
6 May 09
The CDs I bought incorporate language people actually use as opposed to the formal language in academic language classes.

• Philippines
4 May 09
Aside from learning online with online work sheets and videos, you can also chat with a real person who knows spanish. Of course, to be more effective, video chat would be nice too as you would hear and see the person. Most of them use Skype as VoIP is good with clear video and audio.

• Guwahati, India
5 May 09
Hi ratyz5, thanks for your suggestion. I will surely follow these steps,

• Malaysia
3 May 09
Proficiency in 7 languages is no joke my friend! You are a real linguist. I can only manage to master 3 languages and a handful of local dialects. Besides English I speak chinese quite well. The other language is my national language. I took up french for a while but surrendered as I am so confused with the 'gender' things that are associated with the application of this language. It is nice to know many languages as it is an asset to oneself and you will not be lost whenever you are with the native speakers of that language. I think the Filipinos are good in spanish and they are many here that can help you out. Good luck to you.


• Guwahati, India
3 May 09
Hi zands, You speak chinese? I just felt I saw you metamorphosed!! Is not this language very difficult one to learned i am afraid of the heavy accent of their language on whatsoever language they speak. The chineseness is still there. You write and read too?

• Malaysia
3 May 09
Unfortunately I lost my sight on the chinese characters but could only speak the lingo. It seems my whole siblings can speak chinese and the good part here is my eldest sister is a lecturer in chinese languages in one of the local U here. So it helps a lot. I read romanized chinese. LOL .

• India
16 May 09
OMG... 7 languages...!! dada, you didn't tell me... that too speak and read both... you are a master for sure... i am good only in english and hindi... Bengali is my mother tongue but i can hardly read and just cannot write... it really makes me feel bad sometimes... well, i think i would now try to learn to read and write bengali...

• Guwahati, India
18 May 09
Ha ha ha my sis, your bro is really a master. Is there any doubt left. My mission is before I die I want to make it ten. I will learn whatsoever comes handy and easy now. Spanish would not be that difficult I suppose. So how is things?

• Philippines
6 May 09
When I was in college I was able to study Spanish, as before we have Spanish subjects. I got Spanish 1 and 2 . I was not able to make use of it however, after graduation. I can no longer remember other words or terms except for greetings or famous words often used. Though it's quite easy for us to learn as there are spanish words been adopted by our forefathers as Spaniards ruled our country so may years ago. I remember before I can make spanish sentences already, only that in 30 years of not putting it into practice I can no longer recall correct spanish composition. Though I remember some as "Como se llama?" What is your name? "Donde Vive usted?" - Where do you live? "Que ora es?" - What time is it? "Buenas Dias" - Good morning or Good Day. "Buenas Noches" - Good evening "Muchas Gracias" - Thank you very much. "No hay de que" - Don't mention it. "Adios" - Goodbye, "Hasta La Vista" - Till we meet again, "Yo te amo" - I love you. I know more of spanish words and their English translation but I forgot sometimes their conjugation and other verbs as well but I think I just have to review should I get spanish textbooks. I suggest you buy spanish text books such as Spanish 1 and 2 in Learning Spanish also maybe a spanish dictionary with English translation. Good Luck, friend.

• Guwahati, India
18 May 09
Hi Bing, Thanks for en lighting with these words and also with the source. Thanks a lot again.

• India
5 May 09
Well Rajib it is indeed a great achievement that you have mastery over 7 languages.Being a professor of English ,your command on the language is so perfect.I wish i could have same proficiency in English as you have.As far as i am concerned i know only 3 languages i.e.Punjabi,Hindi and English but i do want to learn French because i am going to settle down in Canada and in the near future and French is the first language which people speak in Canada.

• Guwahati, India
13 May 09
Hello bamrahkirti, thanks for the compliment. So you are going to settle permanently in Canada? Any specific reason? So far I know there are there languages spoken in Canada. French, English and Spanish. Thanks for the response.

• Guangzhou, China
4 May 09
It is very impressive to know that you can speak and read 7 languages. That's so amazing:) I think you have the talent to learn language. I think nowadays it's easier to learn a foreign language. Try to find some Spanish and make friends with them. I think your Spanish will have a good progress. I love China




• Guwahati, India
4 May 09
Hi You, I thank you for your appreciation. Yes I would love to learn another language to go more international.lol


• United States
4 May 09
My daughter is very fluid in Spanish. She tells me that one of the best programs out there is from Rosetta Stone. You can order it off the internet. It's a cd based program that lets you hear, and repeat words. Then you do a workbook lesson that goes along with it. She said they used it in her school to teach to the Elementary students, but it is very good.

• Guwahati, India
4 May 09
Hi there, Thanks you very much for this information. Do you know too? And what would be the cost like? Would it be on line learning or would be home based one? Anyways thanks

a lot


• Guwahati, India
15 May 09
Hi Jen, Thanks a lot for your suggestion and advice. A;ll regards to you.