I made my own butter this morning!

United States
10 responses

• Gloucester City, New Jersey
3 May 09
I have the same question - how did you make it? Did you shake it until it turned or did you do it in a blender or with a mixer? Did you add salt or did you leave it plain? I've made butter before, but it was part of a class lesson in elementary school to show us how raw cream could turn into butter. We passed a jar around the classroom and shook it - by the time it got to the last person, we had butter. I know mixing whipping cream too long gives you butter, but have never done it on purpose. I'll bet you're enjoying it!

• United States
3 May 09
You mentioned buttermilk. Is that the same kind of buttermilk like they sell in the stores? I made buttermilk biscuits last night and used store bought buttermilk. That stuff is super expensive. More than four dollars for half a gallon.



• United States
3 May 09
Same way really. Keep whipping the whipping cream past the fluffy stage. It will start to separate out again. Once it is clumpy you pour off the buttermilk and add water to the butter and beat out the rest of the buttermilk. I added a little salt to mine to make salted butter.

• United States
3 May 09
No, I have never made my own butter. I read the responses, and see that you made it starting off with whipping cream. Did you use a hand mixer? That's pretty cool making your own butter. I will have to try it sometime, I will also put a little salt in it for taste.


• United States
1 Jul 09
No, I haven't made my own butter before, lol but I think that it would be very fun. Plus you can control what you put into it, so it can be as light or as heavy as possible.

• United States
1 Jul 09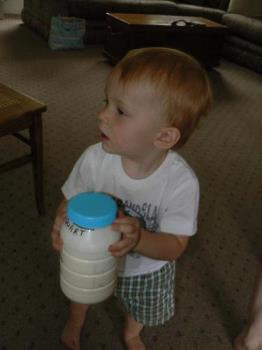 I actually never knew how butter was made and learned to make butter today. It was so cool. I went to my aunts house with my sister and her children and my children to visit. She had fun cooking things planned for them to do. They made muffins and butter and pizza. It was so nice! She had a empty plastic jar and poured a half pint of heavy cream in the jar. She closed the lid and had all the kids shake the jar up for about ten minutes. They all took turns even my little boy who is only 1 and a half. It was a really neat idea and the kids had a great time with it. I intend to do this more often with my children now that I know how to do it. She said that you can add a little salt to make it taste better but this made unsalted butter!


• Singapore
4 May 09
Wow that sounds interesting! I have not made any butter before. How do you do that?


• United States
4 May 09
Once in college we worked a festival through our volunteer group for an apple harvest. They made all kinds of things using apples (it was a very tasty volunteer project). One of the things they had us making was apple butter. I couldn't tell you the exact process, but to get it to be apple butter ended with the apples and other ingredients being cooked for quite a long time while it was constantly being stirred(great upper body workout by the way).

• United States
3 May 09
No, I haven't. When I think of homemade butter, I think of those churns they show in shows and movies back in pioneer days.

I'm glad that isn't the way they do it now! But I probably could have you right next to me, giving me instructions, and I'd
still
manage to mess it up!