What do you think is your flaw as a parent?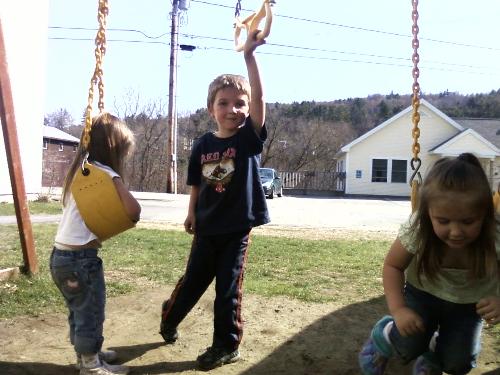 United States
May 3, 2009 12:07pm CST
I know I have a few flaws. I know that I yell too much. It seems that's the only way I can get my children to listen to me. My other flaw that I have is that I dont always stick with my disipline. 80% of the time I do but it really should be 100% of the time. What do you think you biggest flaw is as a parent? Or do you think you have more then just one?
4 responses

• Trinidad And Tobago
4 May 09
I used to keep everyone happy and in control ,, nowadays I am too quiet and generous,, so everyone is having fun and taking advantage of me,, and also I dont spend enough time to rest my body ,,, I need to do that so I might make everyone SMILE AGAIN,,hahahahah,

• United States
4 May 09
I hear you on that one. I dont get the rest I should and that might play a part in why I'm always so cranky. That's not good that people take advantage of you. Maybe more rest will make you not so quiet. Thank you for your response.

• China
3 May 09
I'm not a parent yet. So I am not sure whether my suggestion will satisfy you or not. But there is a Chinese saying is that "there is no argument in family".It's not means as a parent,you can give up your principle,but not to draw up some rules that like provision of law,don't show some data like 100% or 80%,family is not a court.

• United States
3 May 09
Thank you for your response. You make a very interesting point.

• United States
3 May 09
my kid's were raised when i was in the marine corp so no manner or respect problems, i taught them that they dont need material things unless you save for it and then think again before you buy it. they and my 5 grandkids turned out great and i can see it in my grandkids. my biggest flaw was not having enough time for them when they neede it.

• United States
3 May 09
That's awsome to hear. Yes money in my eyes as well is just a material thing and my children have learned that they will get gifts when it's the right holiday and only if mommy and daddy can afford it. They understand that. I also agree with not having enough time to spend with them. The days are just not long enough. :) Thank you for your response.

• United States
4 May 09
I have to be mom and dad with my kids for the most part as their dad works odd hours and odd shifts so my biggest flaw is caving in to early. i don't wanna fight with them over something silly that can just be avoided, though my husband would argue it out and make his point. I just feel it's a waste of my time when I am the one with them for days and nights on end, it takes too much energy out of me. I pick my battles but there are times, I just say what ever you wanna do, do it. And I move on. My husband rolls his eyes at this but he doesn't understand how much work it really takes to be bad cop all the time.