New Ice Age Movie This Summer

United States
May 3, 2009 8:01pm CST
The new Ice Age movie is being released July 4th. That is also my sons 9th birthday, and we are going to try to go see it in the theater, rather than waiting for the DVD. I liked the first two, with the second one much better. I am looking forward to seeing this one. How about you?
10 responses

• India
20 May 09
Ice Age is very good movie suitable for the whole family. The most funny part of the films have been the moments when the poor little squirrel tries to save his food from freezing. Poor little felow fails every time. Watching it on the big screen is a very good idea. Kids love it. My little sister loved it so much that she watched both movies more than 6 times.

• United States
4 May 09
Yes Yes Yes, I love the other two movies and I cannot wait for the third one to come out. I have seen the other two at the theater and will see the third one at the theater too, and then I will buy it to add to the other two movies that I own. Happy Birthday to your son on July 4th, and happy Mylotting!!

• Canada
4 May 09
I have not seen the first two Ice Age Movies, and my granddaughter is a bit too young, so I would wait until they come up on Tv. Besides I am more interested in real life nature then cartoons.

• United States
4 May 09
I love real nature too, but it is a nice little treat to go to the movie theater. We only go about twice a year,.

• China
4 May 09
Of course I will see it.but I am not sure I'll have time to theater then.Seating beside a computer to appreciate it is enough. There's no argue that this is a wonderful movie,it's full of laugh,surprise and risk.So,let's forward it.

• United States
25 Jun 09
My little guy asks me everyday if we can go see this. I have to keep telling him it is not out yet. We will probably go see it that following week after the 4th. We always have a big 4th of July party, so we are really busy that day, and the next day is usually spent cleaning up, so we won't get a chance to see it opening weekend, but we will definitely go see it. I really liked the other two.

• Singapore
18 Jun 09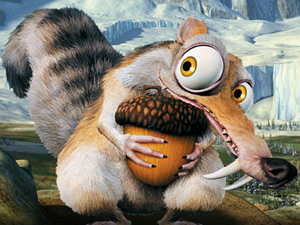 Yes, I'm looking forward to this movie as well.

I was watching the television a few days back, and I saw the movie commercial for Ice Age 3. I was very happy that it will be showing soon. I feel that this is a very enjoyable movie for people of all ages.

My favourite character is Scrat. I'm really looking forward to see how his antics will make us laugh.



• Philippines
11 Jun 09
I've been looking forward in this film since the day it was announced. I've seen the trailers and I can say at this age I am still excited seeing these kind of stuffs. It brings out the kid in me. I am a fan of the first two movies and will not pass a chance to watch the third installation in theaters.

• China
31 May 09
I watched the first two,it's so interest,my girlfriend like it very much.I think the third one will better than the first two.Do you think so ?

• United States
4 May 09
ICE AGE 3? Wow, and here I thought there was only going to be once Ice Age movie. We'll wait till it comes out if we even bother to rent it :)