50 Days I Earned A Total $464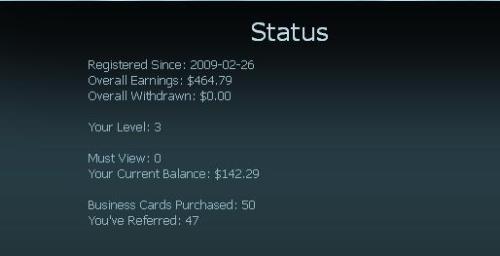 Davao, Philippines
May 5, 2009 11:33am CST
I joined this site on February 26, 2009 but because of hesitation i only start working on it on March 16, 2009. Few minutes after i bought my first Business Card, i start earning. I roll over my earnings to another card, from 3 cards on March 16 now I have 50 Cards and has a current balance of $142. It is really a good site. Admin of that site is also a member of myLot, he is a regular poster here and a working pastor also. I am also working as a moderator of the site right now.
8 responses



• Indonesia
5 May 09
ehm nice to see that offer.but im still confuse about the work of that site.what you mean by bussiness card?is it free to join it or we must have enough money first?im so interest about that site.maybe i can joining thats site to.ehm but im from asian can i join it too.waiting for your response

• Davao, Philippines
6 May 09
yes it's free to join but you need to have your Business Card to start earning. That business card cost $10.75. Now the site give an offer to newly sign-up, you will credited $5 in your account after registration. Of course you need to validate your account to complete your registration. If you don't have funds to have your own business card then you can join several contest that can be found in the forum to add your $5 registration bonus until you can accumulate $10.75. Anyway, if you install site toolbar you will also credited $1 to your account. Then if you can afford to buy your first business card, the earning start. Take a look my post above about the simple concept of the site.




• Philippines
7 May 09
send me a PM of the site,please.

• China
25 May 09
50 days earn $464 is so great that make me want to join this site. Could you please send me the link? Thank a advance! I tried to make money online two months ago and only get about $50 even though I am really working as much hard as i can.

• Philippines
24 May 09
Wow that's good any idea what is that site?