Anybody heard of this or tried it before?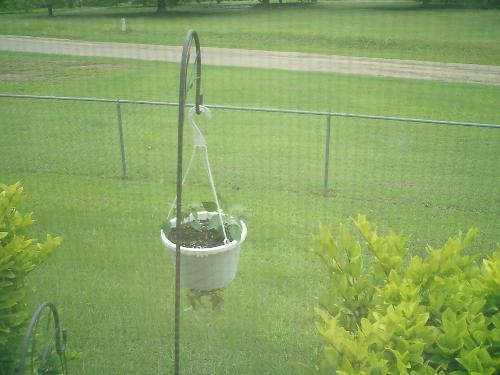 United States
May 6, 2009 1:53pm CST
I am staying in a nursing facility with my son who is in a long recovery process from an automobile accident. My friend knows how I love my fresh veggies. She brought me this planter the other day that we were able to put outside my window like a bird feeder. We poked a hole in the bottom and stuck two tomato plants root first up through the hole. then after we put the dirt in, we placed two pepper plants in the top. Do you think it will work? Have you tried it before? If it works it's a great alternative for patios and apartments!
4 responses

• United States
6 May 09
I have never heard of that. It is a really interesting idea. I am not sure how well it will work though. A plant usually grows up towards a light source. Since the tomato plants are coming out of the bottom, you would think they are supposed to grow down. But as the sun hits the plant, it will try to stretch toward the light. I think it might curl around the planter! Even if it does do that and looks a little bit funny, as long as it still produces fruit, I guess it doesnt matter! I hope this works out for you to bring you a bit of comfort while you help your son heal.

• United States
6 May 09
Thank you. I hadn't thought about if the tomato curls upwards. I had considered that it will be in the direct sun out there no matter what! The weight might help hold it down, you think? Because when they are right side up they drag down to the ground... but I really hadn't thought about it. I guess we'll see! I think if it works I may add one cucumber plant in the top as it could crawl around on the rack it is all hanging on. If it works it will be great when I get back to my own apartment...

• United States
6 May 09
I hope this does work for you. I've been wanting to try it for a long time so I'm looking forward to you posting the outcome!

• United States
6 May 09
I will keep you posted on the process! Especially if I get some fruit from it... that'd be great!!! I'll be singing and dancing then!!

• India
6 May 09
I don't know what are you trying to say. Sometime discription may make confusion hard to get it.

• United States
6 May 09
I took the pot you should be able to see in the picture. We poked a hole in the bottom, basically poked the drain completely out. Then inserted the tomato plants root first up into that hole so that they are hanging out as you see in the photo. Then we put some moss/root stuff in the bottom of he pot and filled it with organic fertilized soil. After it was full, we planted two pepper plants in the top. Did I explain it better? Sorry, it's so many little details I may be leaving some of it out!

• Canada
6 May 09
Wow... this is a very interesting idea to me... especially since I have an empty planter exactly like that one, waiting in my back yard for planting season here. I'm wondering about that quantity of soil being rich enough to sustain multiple fruit-bearing plants. Normally, I only have annual flowers in a pot of that size. I did a little research, though, and it seems to be a very viable concept. Here is something called a "topsy turvy" planter -- it does state that plants will curve upward toward the light, as someone already mentioned, but this site says that just makes them all the more interesting... http://www.cleanairgardening.com/totuupdotofl.html Good luck with it... I might just have to give this a go myself! :) It's certainly a nice alternative to constant weeding or having to routinely stake or tie up tomato plants! Thanks for sharing! My best wishes to your son, and strength to you both, for a full recovery from his accident.

• United States
6 May 09
Thank you. Yes, I have seen and heard a little about the topsy turveys. I haven't heard of their final results yet either! I think the soil should sustain it for a season even if it is for a short time. I am thinking that if I were in my "real life" :) that I would start one now and in about 3-4 weeks start another one and keep overlapping them so that I always had one bearing fruit. We put some moss stuff in the bottom though, not sure about that it may help with drainage. then I have a bad of ogranic soil that I will add to the top occasionally as it settles in. I was hoping that would help too!