Where is my family?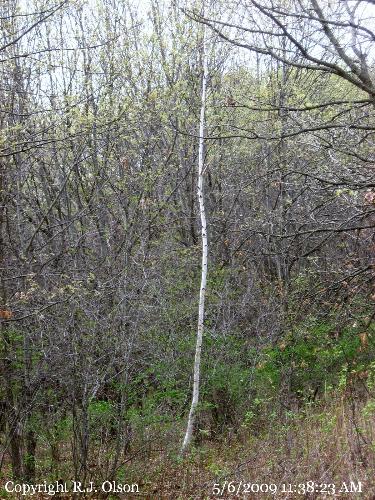 United States
May 7, 2009 1:39pm CST
I am sitting here looking all around me and can not see any direct relatives of mine. I see shirttail relatives yes. But direct blodd relatives are not to be found near me. This photo is from the Nature Center I walked through Wednesday. This is a lone White Birch tree standing tall amongst elms, maples and other birch trees etc. Ever see one odd tree than stands alone in a forest full of trees? HAPPY POSTINGS FROM GRANDPA BOB!!~
9 responses

• United States
7 May 09
That is a really interesting tree. I always love the way you start your discussions - you make things so interesting. :P I feel bad for the lonesome tree though - I would hate to feel so alone amongst second cousins.

• United States
7 May 09
The way I do a lot of my discussions is to draw more attention to them from the genarl membership here and not just my friends list. And it works well most times as well. Thanks also. HAPPY POSTINGS FROM GRANDPA BOB!!~




•
8 May 09
Hi GRANDPA BOB, Isen't lovely to go walking in the natures walk through the trees and be one with nature? i love to sit there for hours and you know if you listen hard, you can hear the trees whispering. Tamara

• United States
8 May 09
Hun, we have a tree in Austin that is a LONG way from home, it is, I believe, an Italian Pine that grew from a cone that fell from packing of Italian marble at a headstone carver's that used to be located on the site. of course I can't FIND any thing on line about it, but I used to live close to this beautiful tree - wish I could find a pix for ya

•
17 May 09
Yes, often and it's usually an oak tree. It's unusual to have a lone birch tree but then I guess animals and the wind scatter the seeds. Oak trees often grow on their own in woodland. I don't know why that is, but maybe the same applies to the acorns. Squirrels probably drop them when gathering them for the winter. Brightest Blessings.


• Etowah, Tennessee
12 May 09
It's funny to think of the many ways solitary plants/trees can get deposited so far from their parent plants. I have never noticed tres that are alone in their surroundings but have had many a plant spring up in unusual places fra from others of their kind. Also have had some plants to just pop up in my beds that were never planted. lol