She suffers when I'm gone!!! I need help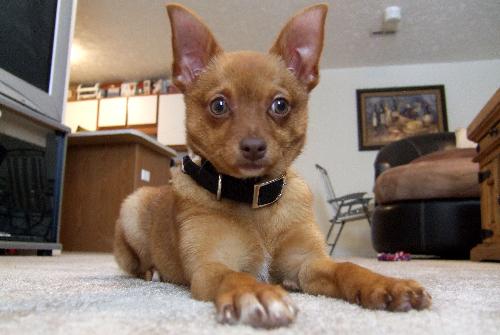 United States
May 11, 2009 11:17am CST
I need some help with my new puppy. She has really bad separation anxiety. For the most part, she goes EVERYWHERE with me, but I do have to run off to places that don't allow dogs, so I try to run all my errands while my husband is home from work. He says when I leave she is freaking out! Cries, runs from room to room, stay at the door then runs to him and cries some more. He says it takes a good 15 minutes to calm her down. She really doesn't even want treats for distraction. This really worries me because once I move back to FL, I will be working. If she is like this when left with my husband, imagine what she will be like when shes alone in the house. I really wish that I could put a video of how excited she is when I get home. She cries and barks and jumps all over me. That can go on for minutes and I have to ignore her now, to try to stop her from being over excited. At first I thought it was cute and flattering, but now I know its a problem. Does anyone have any suggestions on what I can start doing to prepare her for me working. I really don't want my dog to be stressing out when I'm not home.=(
9 responses

• Australia
12 May 09
I was watching a show that had the same thing. My question would be when you go out without your puppy, do you have the same routine? This lady had the problem when she went out the back door with her keys, then the dog will know and start panicking doggy style. The Vet told her to walk out the back door without keys. Again the dog starting to make a noise. The third time, the lady walked out the front door. Nothing. She even tried with the keys. Nothing. So if there was a way to break your normal routine of going out without the puppy, do it. It is clear to me with what I had saw with this lady that the dog has really bonded with you and some how you need to break that bond just a little.

• United States
12 May 09
She freaks out when she hears my keys, or sees me grab my purse. I even think she sees my shoes as a sign of me leaving. I am living on the 3rd floor of an apartment, so I only have one door unfortunately. I do agree with you on breaking the bond a bit. I am trying that. Especially when I come home, I try to ignore her till she calms down, then I give her affection. I am trying to stay consistant with it too. Thanks for your great advice!

• Australia
12 May 09
I have read your comment and got me thinking more. Living in an apartment would make it difficult. Try even different bags. Conceal your keys and purse. May be your husband can assist but this will take time though. Start off with training puppy to sit and stay. Give it a yummy treat before you leave. As time goes on, ask your husband to give puppy the treats. He can take over. As time goes on delay giving the treat. But it can take time and persistance. You may have to go out of the appartment a number of times of the day. Even if it is to go down to the entry of the building and then back up. If it is successful, then may be you can start giving puppy the treats when you come home. Also keep puppy outings at the same time. If you get puppy to walk on a lead. By picking up the lead first, puppy will realise it is puppy time. I wish you luck but be patient and persistant.

• Philippines
12 May 09
i am sorry i cannot offer any words of help but i want to express my admiration with you, you really have a thing for pets which in my part i cannot find it...its like i a scared of having pets.. congratulations and your pets are lucky to have you as owners


• United States
12 May 09
If you can hang out with a dog like mine for just one day, you would be so hooked and would want one of your own. Lol. My husband jokes with me and says that I love her more then him. So I joke back and say well she loves me more then you love me...HEHE But in all reality, a dog just can't see no wrong in you. They love you soo much, its crazy! Their affection for you is never ending. I'm glad to have her =D

• Philippines
12 May 09
i really admire you, you have a big heart for pets


• United States
12 May 09
What I would try is get an old blanket that you have no attachment to sleep with it for about a week or so to get your sent in the blanket good for you little puppy. Also with this you might want to buy one of those teddy bears that have a heart beat sleep with that too, to get your sent on it and then when your leaving make sure you have a place for the puppy put him there and turn on the bear and give him the blankee. that should help his seperation anxiety..

• United States
12 May 09
Your welcome hun I hope that it helps..

• India
12 May 09
I don't know if this is gonna work, but I think it is worth a try. Now, do you put food for your puppy? Do you feed him? If yes then ask your husband to feed the pup. Your husband should also love him as you do, then probably the puppy won't feel sooo very bad when you aren't there. Hope my suggestion works and could be of some help. Cheers.

•
11 May 09
I have a friend who has a puppy with the same sort of separation anxiety. She found out that if you put the radio on it seems to ease the pressure of being alone due to having a constant voice so the dog can feel like he/she is not so lonely. Hope this will help you :) Mikey

• United States
13 May 09
My cat is the same way. Although he has run away now so our roles are reversed. He hates when I leave to go on vacation even though he likes his babysitter. At least you own a dog for whom the clingy behavior is more typical. Cats are supposed to be independent. Richard isn't which is why I'm worried about him as he is missing.

• United States
12 May 09
awww poor thing!! it's possible that she's just lonely. my dog was like this and we got her a friend, and it seemed to work out a lot better! you should get her a little animal friend, maybe a kitty or a new puppy to play with when she's away and she'll be less needy.

• Philippines
12 May 09
I have same situation like you before, I want to ask you, do you mind to have another dog? because my problem solved when I adopted a puppy of my cousin. I have a dog like yours that have a problem when I am separated to her, so I brought this puppy. I don't know what happen but when the puppy became a family , she forgots all about me leaving the house, but she is still excited when I am going home and I feel she become sad whenever I leave but she quickly forgot it, i guess.

• United States
12 May 09
Actually, we are moving next month back to fl. My husbands dog is there with his family and when we get our house, we will have him as well. (husband is in the army and we had to move to dif state without his dog, because apartments don't allow pitt bulls here) Anyway, the dogs get along great! So, maybe you are right...When we get them together, he might be the kind of company she will need =) Thanks, I really hope that will work! =)

• Romania
11 May 09
You must to know that if you decided to have a pet dog, you must to do this for all life. Dogs, are so faithful, they can even die if something is wrong with his master, the pet will suffer a lot. My pet, if i don t go to home just one day, she will not eat. REALLY.sO, BE CAREFUL,YOU MUST TO PAY ALL ATTENTION TO YOUR PET, IS DEPENDENT OF YOU.