When you go to all you can eat Buffet Places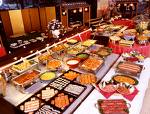 United States
May 12, 2009 9:59am CST
Do you usually try something new & different that you have never had before. I usually try some of the different chinese chickens. Pineapple chicken Hindu chicken ect... But do you try frog legs muscles stuffed shrimp octopus. I've tried the stuffed shrimp before.
10 responses

• Philippines
12 May 09
yes i do try new and something different... especially in buffets. its not like i get to eat dishes like that. i would also try some exotic dishes if there is one served. that frod legs muscles sounds delicious... hehehe.

we always eat octopus here, in fact whenever there is octopus in the market, we will buy it and i cook it here at home... plenty of ways to do it.

• Philippines
12 May 09
well if you have tried squid, they're pretty much the same... they only differ in taste in how they are cooked. mine i cooked it with soysauce and oyster sauce, with lots of garlic and little bit of chili powder. my family likes it this way. sometimes when only adults will eat i add a little vodka, and they enjoy it too


• United States
15 May 09
I never had squid or octopus either. I also was wondering what it taste like also. thanks for the responses

• Philippines
15 May 09
i cant explain the taste... i dont know how to explain it... lol

the best way for you to find out guys is to try it yourself... it really is good, the small ones have softer flesh than the big ones... there's also a dried squid is which soooooo gooooood to eat...




• United States
25 May 09
Wow Jen Your are very adventurous. So you have been to Japan. I used to take Japanese in 8th grade for a language I still remember some. Maybe you can help me I remember how to count to 5 in Japanese I don't remember 6-10 do you know how to say them. Our preschool was learning different languages and I was telling them about Japanese. 1 (ich) 2 (sun) 3 (she) 4 (go) 5 (roco) I used to have a pen pal there also. Have you tried octopus or squid? So you tried frog legs did you like them?

• United States
26 May 09
LOL..I did do octopus and squid. They were good but very chewy. They had a texture all their own..ok taste though. The frog legs weren't bad either. Everyone that has eaten odd foods always says this but the closet I can compare them to was chicken..LOL...but not. As far as speaking Japanese..well..I can say good morning..hello...thank you..but that's about it. I think it's great you took Japanes in school! You must be very intelligent..it's a tough language. The thing that helped me was that they are all required to take a certain amount of English as children. It was a business trip in which I went for a week but only one day was really business..lol..I suppose they made sure the people that took care of us could speak English too. My second language is Spanish..if you need help with that..well..I'm here for you..lol..Talk to you later.

• United States
30 May 09
Well I am glad you had a wonderful experince in Japan. So you speak Spanish. I think I told you I have a few Spanish children in the daycare. I been learning a few things and we have a Spanish teacher that comes three times a week to teach children Spanish. I been learning from her while teaching the children. She translated one of the childrens favorite songs to Spanish for me so I can teach them. I also signed up for a web site to learn Spanish for free. But I like your help also if I get stuck or if you have any advice or pointers for me. I learned how to count to six in spanish I learned a few animal names I few objects like sun (Sole), flowers (flora), butterfly (medaposa), Frog (rania) Rat (raton) cat (gato) turtle (cotugu) bumble bee ( abeja) I know the Spanish is probally not spelled write. I know some of the colors I have a 2 year old the mom just taught her how to say the alphabet in Spanish it was so cute. Well Have a good weekend. Take care

• Hong Kong
12 May 09
Hello emilie2300 Even I am a Chinese, I would try different Chinese dishes in Buffet. Frog legs are delicious. Chinese steam fish is the must eat when I go to Buffet.

• United States
25 May 09
I have tried most of the Chinese things Pineapple chicken, General Tso, Pepper beef, Chicken and broccoli, Lo mein, sweet and sour chicken, Do you like the muscles, octopus, squid? I never tried it.

• Hong Kong
5 Jun 09
Yes, I like all the food you mentioned. And it is so wonderful if the buffet provides Peking Duck. Peking duck is so expensive if we order it when we dine out, so it would be great I can have this duck in buffet. Octopus and squid are delicious as well, I often have them as we sometimes put these to our daily meals.

•
12 May 09
I have never been lucky enough to find a buffet with frog legs. I love them if they are cooked properly. The best I ever tasted were in Geneva. Whatever else was on the buffet that I had not tasted would certainly be added to my plate. I cannot resist something new. Octopus is not one of my favourites so I would pass on that. I would like to try snake but have only found restaurants where you have to buy a whole one. Just a taste to begin with would be fine.

• United States
25 May 09
The Chinese buffet I go to has the Frog legs on it. I couldn't believe it at first. So you have tried many different things? If you don't mind me asking. What about Monkey, cow tongue, pig feet, rabbit. Just curious.

•
25 May 09
Hi emilie, I have never tried monkey but will if I get a chance. Rabbit is my favourite meat. I have shot them, cleaned them, cooked them and eaten them many times. Here in Germany they eat a lot of hare but rabbit is very rare. Pigs feet I tried in Shanghai but was not impressed. Cows tongue was very common in UK and I have eaten it often. My mother-in-law used to buy a complete one and cook it herself but each butcher had their own sliced cooked tongue which was eaten cold with a salad or on a sandwich. I have also eaten and enjoyed kangaroo and crocodile in Australia. Alice, Is tongue still so common in UK?


• United States
26 Jul 09
That's good every one has there own opinion's on trying new thing's. I was just told if you don't try it you don't know what you are missing or if you like it. We have Chinese buffet and seafood buffet and international buffet where I live.

• Philippines
29 Jun 09
I've eaten frog because it's a local delicacy in a nearby province - it's actually "toad" and not frogs because there are frog species that actually excrete poison through their skins while toads are much cleaner. My family went to an all you can eat buffet for this year's father's day. It was a double celebration because my father was also celebrating his birthday. I ate mostly Japanese food. However I did try new dishes that I haven't eaten in that place before - some pita covered beef and vegetables with a variety of dressings, and a slice of squid stuffed with vegetables, seafood, etc. They were very delicious! Thanks for the response on my discussion!

• United States
5 Jul 09
I glad your dad had a nice father's day and a good Birthday.. I didn't know they are made from toad. That's interesting to know. I am glad you liked the new things you tried. We really don't know if we like them till we try them.

• United States
12 May 09
I'm open to some new things, but there are a few things that I won't try. Especially if I don't know what it is. I guess you would say that for the most part I would play it safe. No, I would never try anything with frog legs in them because I do not care for them at all.

• United States
25 May 09
Hi carpenter5 I hope things are going good for you and your family. And your son is still doing good. So you have tasted frog legs before??? Just asking because you said you don't care for them. Did you try octopus or squid before? What was the most un usual thing you did try that you liked or didn't like? You and your family are always in my prayers! take care God Bless You

• United States
12 May 09
I think I try a couple of things that are new but mostly stick with the stuff I usually get and I mostly get that in bulk. That way if you don't like the new things you are trying out you still have all the things you know you like.

• United States
25 May 09
Yes that is true if you don't like it you still have the other stuff that you like. I just think it good to keep a opened mind sometime and try new things to see what your missing or what you might like differently.

• Malaysia
12 May 09
Ya, i've tried frog legs before, it's nice,haha. But i don't eat it very often because i feel pity for the poor frog. I once watched how the cook kill the frog on the spot and chop it into pieces to be ccoked. Poor frog. Usually when i go for buffets, i'll try for something new, but not much. It need time for me to accept new food which i never try before. If i think the new food i tried is not nice or not suitable for me, then i'll not have it again.

• United States
25 May 09
Ah ah that's sad poor frog. I can't believe they do that. I couldn't I am a big frog collect I used to have pet frogs also till they passed. I couldn't imagine watching.

• United States
25 May 09
Me, not so much! If the name sound weird I don't eat it, simple as that. Not that I don't trust the restaurants but it's just that I'd rather prepare something like that myself if I even were to want to taste it. I think the weirdest thing I've eaten is Pig Stomachs... that ofcourse without knowing it.