Gnomes Home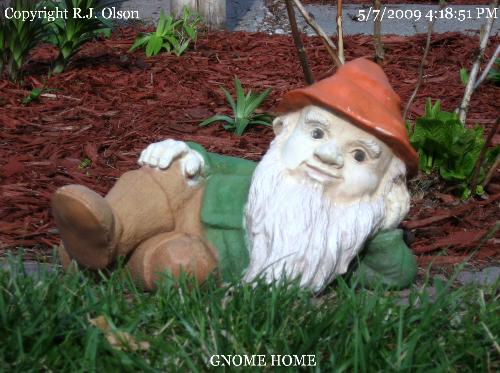 United States
10 responses

• United States
12 May 09
He's really cute! I don't have any lawn ornaments right now, I'm still planning my yard. Could you take a picture of your yard for me? I have no idea what I want, I just want lots of flowers. I can clear away grass and stuff this year and plant seriously next year, maybe some bulbs this fall. I just don't know what I want, only I want a LOT less grass to mow!

• United States
13 May 09
Ferns are a great thing to plant in areas you want no grass. They take over very fast. I am doing that along the side of my house. HAPPY POSTINGS FROM GRANDPA BOB!!~

• United States
13 May 09
I need those! What kind of ferns, what are they called? The side of my house is full of dandelions (which I love to see flower) and other weeds and outside my back fence the alley I have to mow the grass and weeds to keep it looking nice. Are some ferns better than others? Will they choke out the grass and weeds?

• United States
12 May 09
Ok, I tried to post my reply to this discussion along with a picture of my two tier water fountain that my son got me for mother's day and it wouldn't go through, the reply wouldn't even go through. I hope this does so I don't have to try again. Maybe I can get the picture posted another day.

• Canada
12 May 09
Your little gnome guy is just too cute, I can see why he is your favorite

I don't own my own home yet so I haven't really bothered with lawn ornaments. I did find an angel once that your supposed to put in a tree as it has rope and is sitting on a swing, but I just bought it and painted it! It took me a year to paint it when I had the time, but I love how it turned out! It is now sitting in my bathroom and I often get complimented about it!

• United States
12 May 09
I've seen the angels on swings around here as well. A store near me has a small cement bench with 2 l ittle kids holding hands that is adorable. HAPPY POSTINGS FROM GRANDPA BOB!!~

• Canada
12 May 09
Awwwwww that bench sounds really cute with the 2 little kids holding hands. I'm pretty sure that once I do get my own home I will have quite a few angels and fairy's all over the place

. I also would love to have a little pond or waterfall in the back yard too!

• United States
13 May 09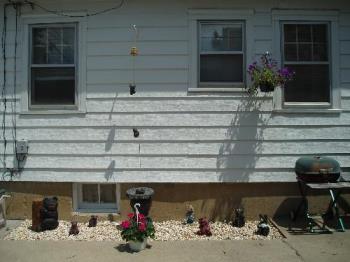 Your gnome is really cute. My mom likes gnomes and has them in your yard, she would love yours. I have several little bears that are lawn ornaments and I love them all. This photo was taken a few years ago, I do have several more lawn bears now.

• United States
12 May 09
I don't have any cool lawn or garden ornaments. My grandparents had 7 lawn gnomes when I was a kid. They sat out front of their house and when they moved they took them with them to another state. To this day they still sit outside my grandpa's front picture window.

•
12 May 09
Hi GRANDPA BOB, The little gnowme is sure cute, I have a half man half oak tree ornement in my garden and I have some ornmental frogs also so ornamental mushrooms as well, it just sets the garden up. Tamara

•
18 May 09
Yes, he's beautiful! I have several ornaments, but I put a lot of them amongst my flowers. I think probably my favourite is this, green faerie, in the pic. He stands on my middle garden terrace, more or less in the centre. There are several others which tend to get hidden amongst the plants at this time of year, but I keep my faerie at the front. lol. Brightest Blessings.

• Australia
15 May 09
I've ALWAYS wanted a gnome - but we only have Mexicans! One of them looks strangely like my Dad - and the other has his head down, with a big sombrero covering it. We have some little animals which are solar lights (owls, squirrels, snails and turtles) hidden around the shrubbery - and a big, black eagle with his beak broken off - and a terracotta flowerpot man made of different sized flowerpots threaded together - and some glass and wire butterflies on sticks ... AND some little tin lanterns with patterns cut out of the sides and little doors to put tealights in. Phew.

• United States
15 May 09
I wish I had a lawn to get an ornament for! Has your gnome ever been stolen? I have heard three stories on the news when a group of college or high school kids steal the gnome from a couple's yard, then bring the gnome back after a month or so with a photo album attached to it. Wherever they had gone, they took pictures of the gnome along with them. I guess it something that caught on, because like I said, I've heard that same story in three different occasions now. I could get something to stick in front of my apartment door. What do you recommend? A gnome? A flamingo?


• United States
13 May 09
How nice is he. Well, mine is a big rock that my Mom and I found a week after my father passed away and we got it almost into the jeep and then we couldn't get it no farther we looked at each other and I said Dad please help and poof it went in. So yes that big old rock and a angel I bought to go next to it. You have a wonderful week. Your friend onlydia