New or Old Vehicle

Canada
May 12, 2009 1:40pm CST
Would you opt for a new, older or a collector's vehicle? If you had a choice, what would you choose and why? What type of vehicle do you own, if any? Personally, I always opt for an older car. I never intended on having a collector's car but as it turns out I do. I treat it like any other car though. Yes, I try to keep it in good shape but for the most part, I am not out there washing and waxing it each and every week. I like the old carbureted motors because then I don't have a computer to deal with when I need to work on the car. Yes, I do my own mechanical repairs when I can. I love the idea of the new hybrids. I think there is going to come a time, in the near future that I won't have a vehicle any more. Not because I will be too old that the Motor Vehicle branch will take my license, lol but because I am concerned about my global foot print. I would rather walk or take optional means of transportation. If I say won a new car or even an electric car, I would probably list it and sell it right away. I am not into having a new car. An electric car would be kind of neat to have for transportation but I think that I am just getting tired of cars period. Please share your views. Do you drive an old, new or collector's vehicle? Why do you choose to drive what you do?
6 responses

• United States
12 May 09
I would always opt for a brand new car. I wish that I could do repairs on older cars like you can, but I just dont have the knowledge! With a new car, I dont have to worry about it breaking down. If it did for some reason, I would take it to the dealership to fix because of the warranty! Besides, Im not really a big car buff. My husband
loves
cars! He had a 2001 Mustang GT. He traded that in on a 2007 Mustang GT. Those were awesome cars. He would really like a '67. One day I hope to be able to surprise him with that! We got rid of the Mustang

last year. The Civic made more sense, even if we liked the Mustang better! The Civic was also new. So I guess, for myself and my husband, we would either go new or collectors! I do like your idea of walking and nonpolluting transportation. I try to do that as much as possible. I know people who live in walking distance to work. I am totaly jealous! Since that isnt always an option, I do try to get the more fuel efficient cars that pollute less!

• Canada
12 May 09
I can totally relate to why you would want a newer car. take advantage of the warranty for sure! Honda's are great cars. I have an 84 CRX first edition. It is in pretty good shape too with a tonne of work done on it, accumulating all the years gone by. I love it. It is one of the smallest CRX's made. Reliable cars those Honda's. I love the mustangs. I am not so hip on Fords as I come from a Chev family (yeah and own a honda) but i have always loved the Mustangs. Very hot looking and often sounding too. I am fond of a few years in that model. Thank you for your response. Enjoy! I know I would. i don't really like getting all dirty.

• United States
13 May 09
My family is a Chevy family also. That is what I drive currently. I hardly looked at anything else! (And the ones that that I did look at were still GM!) Once I got past 'the Mustang is a Ford', I really loved it. It was a fun car.

• United States
12 May 09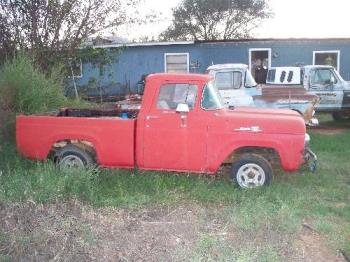 we own alot of vehicles. I have an 07 Toyota Yaris because we needed a reliable car that gets great fuel milage, we bought it brand new and I love it. It was the first car I have ever owned. The pic shows my husband's 59 ford then my 59 chevy and his 77 ford. He also has a Ford Torino (I do not know the year because I do not care that much about cars) and we have an 88 chevy 1 ton. I love my old truck, it belonged to my mom's grandfather and when I get it running I will drive it every day. We love our toys and my husband prefers the older ones because of the lack of computer also, we do our own work too. Despite the age of our vehicles they will all run great and get good fuel milage before we are done so I am not concerned with polution they might cause.

• Canada
12 May 09
Thank you for your response. I understand what you mean by reliable. Very important. You two certainly have some old classics. Beautiful. The thing about that old metal too is that it is so much nicer to work on than the newer stuff. Great restoration projects that you have there. I would love your old truck too! The red one is kinda nice also. Oh good, so you can totally relate to why I prefer the cars without the computer. No Thanks. In some ways it can make troubleshooting a whole lot easier because it lights up where the problem is but still.. I like the older stuff. If your old ones run on gasoline, you can always switch it over to propane that runs cleaner they say and better mileage. have fun working on your toys. Sounds like a project I would be up for too.

• United States
12 May 09
I would always go for a collectors car if i had the chance. Im in love with old classic nostalgic cars but they're not as sensible as the world has to be today. i drive a ford escape but i would love to own a garage car like 69 camaro to just keep pretty =)

• Canada
12 May 09
Oh I hear ya. How I wish I had a garage. I love going to the show n shines. Big Time Eye Candy feast. One thing about the old classics, they seem to only come out at show time so isn't as harmful to the environment if they were being driven all the time. Thank you for your comment. I like the older cars, doesn't have to be a collector. Just something easy to work on, when need be.

• Philippines
6 Nov 09
I think I would prefer a new vehicle. When I was young and my parents bought a series of old cars because they could not afford a brand new one then. Well, to make a long story short, we did have a lot of difficulty with those because we always had engine trouble with them. In the highway, in a traffic jam, in an intersection, you name it. Those experiences has put me off old and second-hand cars. I like looking at vintage cars though, reconditioned or not. Have a nice day!


• Canada
8 Jan 10
Hello Rainegurl, I enjoy the vintage cars also. I understand about engine trouble on the used cars. You never know what you're getting into when you buy yourself a used car, that's for sure. It would likely be safer to buy new unless you are privy to mechanics so to check the car out, well, before deciding to buy. Thank you for your response.

• India
20 Sep 09
i would opt for an new vehicle, untouched lol :) i have never bought a used vehicle, i think buying a used vehicle is a big risk, it may be stolen, it may have some problem in it that the seller will never tell you. so i think you should always buy a brand new vehicle always.

• Canada
10 Oct 09
Hi kill, Great points. Thank you for your response. I have bought a used car before that had some negative history. Ran good just had some bad history.. So I completely understand what you mean. Next time it shall be "untouched" ;)

• United States
16 May 09
Hubby and I have bought a new truck once and only once. Never again because we found out how much value is lost once the papers is signed. It's nice to have a new car/truck because of the newness of it and the smell is awesome but it doesn't last long. We did trade in my 02 tracker for an 05 santa fe because mileage was getting up there and the safety level wasn't all that high for the tracker. The gas mileage is worse which we don't like but safety is more important. We'd like to get a hybrid some day, when the prices come down quite a bit. As it is now, it's not worth it unless we were to keep it a long long time.

• Canada
19 May 09
Safety is a huge factor. Good point. It is something that I often concern myself with since I own and drive an older car. I can understand your decision. I think i would opt for saftey before gas mileage too.