My ginger tom brought home a tiny kitten,fed and washed her...is this unusual?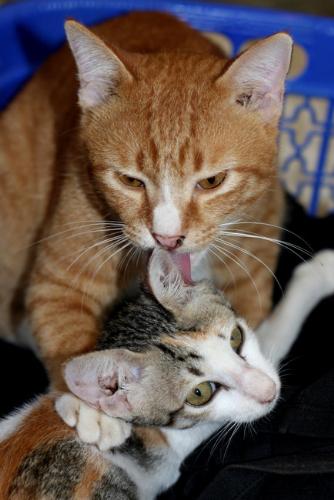 United States
4 responses

• United States
16 May 09
It shows that he comes from a very loving home. He learned from the best about being a loving caring cat. You taught him well! Both cats are extremely beautiful.

The thing about his laying on your bed for three days without moving, he may have had a severe migraine from the accident. Any animal with a brain can get a headache, because it is blood vessels swelling in your brain, so you can pretty well figure that is what happened to him. Just a reminder to everyone, NEVER give a cat human medications, including aspirin and tylenol...it will kill them. Hug your babies for me, I have four cats and four dogs plus five outside cats that I take care of.

• United States
16 May 09
You really touched my heart with your response,Loverbear. - I think your comments about giving animals human medicines are spot on - we use homeopathic and Bach Flower remedies,but very mild doses,and they seem to respond best to this,and of course love,which might mean leaving them alone for a while,so they can just chill out and heal. My tom's name is "Cheese" - our kids named him,after the color of their(and his) favorite food,and the little girl is called "Squid" because she was all long legs and tail when he first brought her home. I can't imagine life without my cats,coming home late from work,sometimes in the early hours of the morning,they come out of the house to greet me and eat a treat I bring them back in a baggie,then drift off to sleep,happy and full. At present,we only have 3 resident cats,and one young black tom,who is learning to trust me - hugs appreciated and returned !

• United States
16 May 09
Thank you for the BR! I am in the middle of finishing up 7 college classes and decided to take a break and check my email. It was such a nice surprise! THANK YOU!!!

Khuay, the cat in my avatar, is the character of the bunch. I swear he is a CIA agent in a cat suit! No paper, box, or package is safe from him. He is always looking for the microfilm, secret camera or microphone in any strange package that comes in the house. When I got him and his brother Willy, I thought that Khuay would be the quiet one. No such luck. Willy who was outgoing as a kitten turned into the shy introvert and Khuay is the fun loving character!!! Then there is Murphy, who is going on 16 this year. She is a very proper lady who drove my Mom nuts for the first two years she was with us, as Murph didn't like the brand of kitty litter I was using and she would poop in Mom's potted plants. So, for two years there was war between them with my rising anthem being "YOUR CAT POOPED IN MY POTTED PLANTS AGAIN!!!!" It got too quiet after I changed the litter...Murphy used the litter box all the time after the change. Then there is Dinglebeary, who is a Maine Koon cat. He is 7 years old and I adopeted him after he had been in abusive situations, first his original home and then the foster home. He was very introverted but after a few weeks of TLC he came out of it and is a real character too. He loves to get in the middle of what I'm doing and make it impossible to do anything but love him. When he's sure I've lost track of what I am doing, he leaves. Life would be sooo dull without them- and the dogs! My herd has all gotten hugs from you. Enjoy the purr people, they sound so wonderful. I have to really keep a grip on myself otherwise I would be that crazy little old lady with a house full of cats and no boyfriend or husband that they talk about on television!


• United States
15 May 09
How sweet! There are so many stories out there about different species being friends--like that rabbit and deer--and housepets adopting wild animals, so I'm not really surprised that your tom adopted someone. At least it's just another cat!

• United States
16 May 09
Yes,I'm really glad it was another cat,something bigger could have been a problem !

• United States
14 May 09
Welcome to the Lot! I think your cat is a smart fella who knew the other kitty needed a helping paw. I had a dog lead me to a couple of dumbed kittens once. He was a pit bull with attitude but sweet as all out. He just knew they needed help.

• United States
16 May 09
Your pit bull sounds like a real sweetie ! My tom is kinda tough,too.

• Indonesia
14 May 09
this is nice, i am cat lover too. everything is fun with it. so, it is sadly if something happen with it. the good news is your cat is okay.. and in this case maybe brought home any friend its mean he enjoy living in your house so he think sharing with other is better...

• United States
14 May 09
I have adopted a lot of stray cats,over the last few years,some stay,and some move on when they are big enough,or get well again,so,maybe he was copying me ? -After all,I found him in a drainage ditch outside my house,when he was only about 5 weeks old,and had to get another small kitten to lure him out of a pipe !