im 16 and in love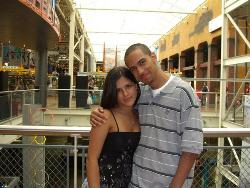 United States
November 11, 2006 7:16pm CST
8 responses

• United States
20 Mar 07
no been there mama nd been hurt you already know that :-* kisses

• Italy
28 Feb 07
Well RicanDyme, you are 16 and so you are a very young girl, however, why to consider wrong the fact that you are in love? Love, passions, are the most beautiful and important sentiments in the world, in your photo you and your boyfriend look so sweet.... I like you, so, no problem, you are not wrong.

• United States
28 Dec 06
No, there is love at all ages! I think that you could end up happily married, but just remember people change alot over a lifetime... Habbit's and situations change people! All I'm saying is don't stay together just because he is your first love! Be together because you both want to be...


• United States
12 Nov 06
Its just that you havent expierenced that much, and you dont want to miss out on things that you shouldnt! Its crazy, and in fact Im only 21...Im also engaged, and I wouldnt say its the most brilliant thing I've ever done! Yes I love him, but I havent gone to college, and now I dont have an option to lets say live at college, and have a dorm room...you know what I mean? I definitly plan on going back but its woulnt be the same... Just one example of many...dont let him make you miss out on things!!! You might regret it!

• United States
12 Nov 06
Nope. Not at all. I hate when people say "she's too young to know what love is". You are just as capable of feeling love as anyone else. Love has no age limit. There are dangers to being in love at a young age such as growing apart and having your heart broken, but even adults have those problems. I'm happy for you and I hope your relationship is strong and healthy and that, should it fail, you'll have learned something valuable about yourself.