More HATE from the right wing.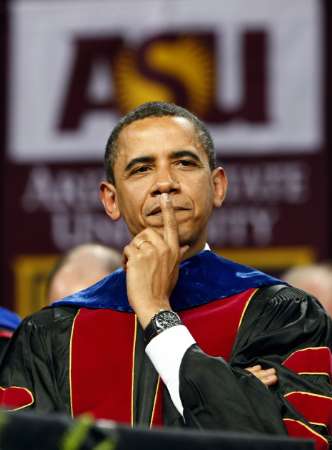 United States
May 19, 2009 10:00am CST
Yes, it is true. Some on the right will stoop to any low to try to embarass our dear leader, the President of the United States of America. Barrack Hussein 0bama is a blessing bestowed upon the USA and world. Yet, even still in the face of this great truth ,images and comments disresectful of this great man are still published. Click the image below to enlarge. I say, "What kind of man could publish this photo while implying it proves 0bama is too stupid to even properly pick his own nose?". Anyone not consumed with hatred for 0bama can clearly see this is a profound pensive moment in 0bama's life. 0bama is in deep thought contemplating how to best serve America and the cause of world peace. Durn those to heck who make fun of him. What do you say?
2 responses

• United States
19 May 09
I think for it to be a true photo of the illustrious leader's real pride in the USA and the future under his leadership he should be showing the middle finger!

• United States
20 May 09
I'm pretty sure there is an infamous photo of 0bama giving the middle finger covertly to someone. Bush did this on an occaision, too, IIRC.

• United States
19 May 09
He is posing for the camera, hoping to give the impression of being thoughtful and wise. He is failing miserably. Mussolini also tried to convey the same image. May their fates be the same. Actually, he is trying to sneak a pick in hoping no one will notice. We noticed...


• United States
19 May 09
Actually, I sincerely hope 0bama does not achieve the same fate as Mussolinni. It took the destruction of Italy to rile up the people enough to really do something. Let's skip that. I'll be happy to vote democrats out in 2010 making 0bama an ineffective lame duck and then in 2012, PALIN for President.