Ever seen this Chupacabra?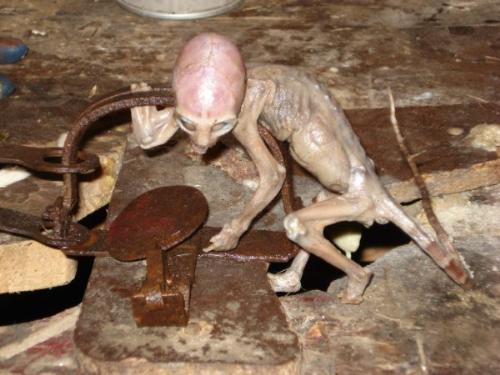 Australia
May 21, 2009 8:50am CST
I have this photo here of the Chupacabra that was captured in Mexico, I think. What do you guys think of this, and have you seen it before anywhere else? They say this is real, and it was found dead.
3 responses

• Cambridge, England
21 May 09
It looks very much like a monkey embryo or perhaps a skinned monkey or some similar animal. I don't believe that anything like that exists alive. The photo is very obviously posed as if it were caught in a trap. I have no idea what a chupacabra is (the word means 'goatsucker') but I assume that it is a mythical being, like a goblin, boggart or some such. The descriptions I have found of it describe it as 'the size of a small bear' and 'having spines down its back'. Based on that, I would say that this is not a picture of a chupacabra. Everything about the animal in the picture suggests that it is either a newborn or embryo which has not yet developed hair or an animal which has been skinned. You can, at least, bet your bottom dollar that it is a hoax.

• Australia
21 May 09
it is not necessarily a mythical being in the U.S., but it may be in Mexico. wait, how could it be the size of a small bear, and be something that hasn't developed yet? i guess it could be a small unborn animal that was the baby of something large, but you can't really tell, it doesn't look like anything ever seen before like an embryo as far as that goes.

• Cambridge, England
21 May 09
It does look very like a baby monkey or tarsier to me. People keep all kinds of animals as pets.

• Australia
22 May 09
Real or fake, the caption is odd: it says it is on a table with its hand in a clamp; but that doesn't look like any table, and the "clamp" is obviously a rabbit trap or similar.

• Australia
22 May 09
Hey it might be what u you say, I just guessed what was holding it.