..."in love never say ia am sorry" you remember this words?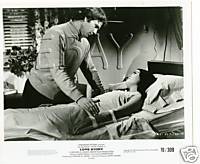 Romania
May 24, 2009 12:28pm CST
"LOVE MEANS NEVER HAVING TO SAY I'M SORRY" ...do you remember this words?Ryan O'Neal and Ali MacGraw....in my opinion this was the best love movie....is so old movie, but i remember this words all time...."in love never say i am sorry"... Love Story tells a very simple story (boy-meets-girl, boy-loses-girl) that happens to operate at a strictly emotional level. If you don t watched this movie...you must see it. and you will see there what real love mean.

4 responses

• Boston, Massachusetts
24 May 09
I completely disagree that love means never having to say you're sorry. Love is not an excuse to treat anyone badly or be unkind without making amends. Love does not mean you oughtn't to communicate your feelings. Love does not mean you shouldn't have a tender conscience towards the feelings of the other partner. The opposite is true. If you love someone, you put their interests and benefits above your own. Far from never saying sorry, you may say you are sorry and apologize even if you don't think you were wrong. You care more for how the other person feels than you do for your own feelings and so you will always be quick to admit fault and make things right. It's a nice catchy phrase, but one that I don't think leads to good relationships.

• Boston, Massachusetts
24 May 09
It's an old movie, I saw it years ago. The reason you would make amends, even if you believe you are not wrong is because you care more for the other person's feelings than for your own. If you do not love the person enough to swallow offense and make every effort not to give it, you are more concerned with what you get than what you give. Of course, I am not addressing situations where there is abuse, I am talking about relationship issues. There is no need to win a silly argument if it means losing your relationship. Pick your battles. Don't be afraid to say you are sorry if it will mend a rift.


• United States
26 May 09
You can find the song on youtube at this link: http://www.youtube.com/watch?v=IRbZzo19v6g

• United States
25 May 09
Hi again! While I loved the movie every time I watched it -- at least 5 times -- and the book was even better, I disagree with this line. Those we love are more deserving of good manners than anyone.