Do You have the Recipe for SLIME?

United States
4 responses

• United States
27 May 09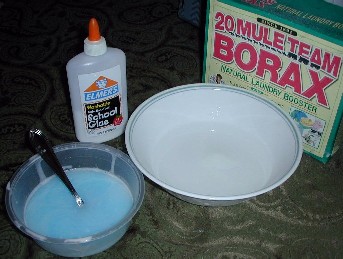 This would be a great idea to make at a birthday party. My sisters is on June the first so maybe I should ask my mom about making slime..be cool! lime is easy to make. It only takes a few ingredients and a few minutes to make a batch. To get started, gather the following materials: water white glue (like Elmer's™) borax food coloring (unless you want uncolored white slime) Mix the glue, water, and food coloring separately from the borax and water. Mix 1 teaspoon borax in 1 cup of water. Stir until the borax is dissolved. In a separate container, mix 1/2 cup (4 oz) white glue with 1/2 cup water. Add food coloring, if desired. When you combine the two slime solutions, the slime will immediately begin to polymerize. After you have dissolved the borax and diluted the glue, you are ready to combine the two solutions. Stir one slime solution into the other. Your slime will begin to polymerize immediately. The slime will become hard to stir after you mix the borax and glue solutions. Try to mix it up as much as you can, then remove it from the bowl and finish mixing it by hand. It's okay if there is some colored water remaining in the bowl The slime will start out as a highly flexible polymer. You can stretch it and watch it flow. As you work it more, the slime will become stiffer and more like putty. Then you can shape it and mold it, though it will lose its shape over time. Don't eat your slime and don't leave it on surfaces that could be stained by the food coloring. Store your slime in a sealed ziplock bag, preferably in the refrigerator. Insect pests will leave slime alone because borax is a natural pesticide, but you'll want to chill the slime to prevent mold growth if you live in an area with high mold count. The main danger to your slime is evaporation, so keep it sealed when you're not using it. Here is a link for glow in the dark slime http://chemistry.about.com/od/chemistryhowtoguide/ht/glowindarkslime.htm Radioactive-Looking Slime http://chemistry.about.com/od/madscientistlab/a/slimeproject.htm

• United States
27 May 09
Wow! Thanks! I hope you DO get to do this at the party!!!! Let us know how it goes! Thanks again! BearBallew

• United States
28 May 09
If it is a go..I hope the kids do get to make it it would provide them with a hour of fun at least...lol

• United States
4 Jun 09
mtdewgurl74 . .we must have been at the same class for this one for my reciped is exactly the same. So easy and so cheap and on top of it all so much fun for the kids and adults alike
@
Happy oofy gooey slime stuff to you all!

• Canada
27 May 09
I think the stuff we used to make and love as kids was just water and cornstarch and food colouring... you could squeeze it into a solid block, then when you stopped applying pressure it would melt and drip out of your hands again... odd stuff!

• United States
27 May 09
Yes! I've seen this! Wow,t hat's easy! Thanks! BearBallew

• United States
26 May 09
This link has several types of slime to make. http://chemistry.about.com/od/slimerecipes/Slime_Recipes.htm

• United States
27 May 09
Thank you! I'll hit it and see what I can find! PS. I'm glad you wrote! I absolutely LOVE your profile pic! BearBallew


• United States
27 May 09
Oh yeah!! Nickelodeon!! They have Great GOO! Thanks! BearBallew