what kind of SLEEPER are you?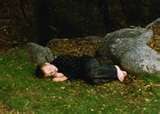 Philippines
May 26, 2009 9:20pm CST
reglar sleep are essential for survival. they say that the position of sleeping matters for they are associated with some meanings. choose what kind of sleeper are you.covering from head to toe means deep down inside you,you're shy and weak.if you're a back sleeper with arms crossed to support the head, youare likely to be filled with cranky ideas that people find them to follow.you're intelligent too.If you're a back sleeper with legs crossed, then you find difficulty in accepting changes but you endured some stuffs. those who cuddled up while sleeping are lonely and depressed.side sleeper are unconsciously jealous and selfish. they also tend not to show those emotions.If you sleep in your side with one knee bended then you are fussy and always complaining.If you're a side sleeper and lying on one arm you are polite, sincere and loving. when you're a back sleper with arms and legs spread out then you have that liberty loving spirit.Some sleep on the stomach and are called tummy sleepers.they always force people to comply with their own needs. This doesn't mean that we have to take it seriously. our traits and character still depends on how we were brought up and the environment that we are into.
6 responses

• Philippines
27 May 09
For my sleep position, i like to sleep side way,this position is very comfortable to me, i can sleep very well with this position, i think this position is appropriate with people who is snoring, to prevent him\her from snoring.

• Philippines
27 May 09
oh, is it effective?my husband hates me when i snore. im proud to say i snore a lot.they say snoring is link with some kind of illness. ijust don't know what's that as of this time.anybody care to tell me?

• United States
27 May 09
What if you move around all the time, what does that mean!! lol sometimes I flip over and sleep at the foot of the bed instead of the head of it.

• Philippines
27 May 09
you should be thankful that you're safe from th interpretation.it's the one lacking there.ill research on that.just check back. thank you.


• Philippines
27 May 09
i will research what associates to tossing around in bed. i guess it's the one lacking in the kind of sleeper. you're safe from the interpretation.haha.peace!

• United States
27 May 09
I like to sleep on my side but the position my arms and legs end up in usually depends on where the dogs and my husband are.

Sometimes my husband wants to cuddle, sometimes the little dog wants to cuddle and, heaven forbid, sometimes the big dog who is less than a year old wants to cuddle! Sometimes there's no room for my feet at the foot of the bed...and sometimes both dogs are on the floor so then I can stretch out in peace!


• Philippines
27 May 09
sorry but i hate dogs sleeping with me. i don't allow anybody or anything that would cut short my sleep,even my husband.i'll be not in the good mood when i wake up.

• Philippines
27 May 09
i can't sleep lying on my back, i sleep in a sideways position.

• Philippines
27 May 09
hey jealous and selfish.joke. you're the exact opposite.not jealous and not selfish.i think the meaning refers to our other friend.hehe.

• India
27 May 09
Luckily I always have sound sleep and sleep like a baby.I sleep seven hours in the night without getting up in between.I always sleep on my side hugging a pillow and placing the other pillow under my bent knee.As your prediction I should be a fussy and complaining.In fact I am not so in real life.May be the extra pillows are taking the brunt.