building a house out of cards...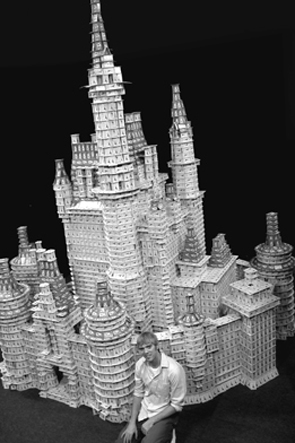 United States
May 27, 2009 10:31am CST
Have you ever just for fun pulled out a deck of cards to build a house out of cards? .... I remember doing this when I was a kid, but havent done that in years. My son is getting to the age that it would be fun to sit down and spend some time doing this... it will be interesting to see how he sees it through his eyes and what he can come up with...

so I looked up some houses of cards online and there is there guy Bryan Berg that actually builds skyscrapers and the white house out of playing cards... it was amazing to see!!

so have you ever spent time building a house out of cards?

3 responses

• Italy
27 May 09
Gosh that takes me back a few years. The last time I did anything with playing cards other than play card games must be over.... 25 years ago!

My son was small then and he played with the packs of cards too. We would have friends round at the weekend to play cards and they would wear out quite quickly so then he had them to build castles with them. We never got very high with them ever though

That pic is remarkable and what patience too|

• United States
27 May 09
I think it will be very interesting to see what my son comes up with!!

I know, it is amazing what this guy has done with cards... he actually recreated the white house with playing cards, it was unbelievable!! thanks for responding, and happy mylotting!!


• India
27 May 09
That's wonderful! I remember as a kid doing stuffs like that. I had an uncle who was an expert in these kind of things and when ever he would come down to our place he would teach us a card trick and invariably i was the last one to pick!

Reliving childhood days through our children is the most beautiful thing to happen and I am so glad that you are loving that right now. These moments are precious and we remember these life long. enjoy your time with your son. Thanks for sharing the amazing picture of Disney world. This guy is unbeievable!

• United States
27 May 09
I know I couldnt believe the pictures of the things he has built with just cards.

it will be alot of fun building card houses with my son, my daughter is only 15 months so we have a ways to do this with her. thanks for responding, and happy mylotting!!

• United States
28 May 09
I Tried but wasn't very good at it! My house always feel down!