Garden growing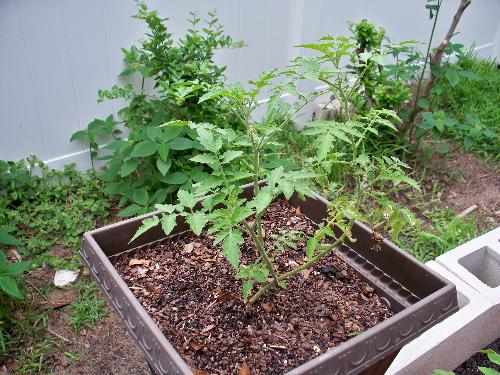 United States
10 responses

• United Kingdom
27 May 09
It is great that things are going well in your garden. It has been raining for most of today so I feel happy that I mowed my front lawn yesterday. Many weeds have been coming through. I have some colorful flowers that make me feel happy to see them. The weather has been windy and yesterday my lawn mover fell over and hit me. I will be more careful next time I do my gardening. I like the photo of your garden.

• United States
27 May 09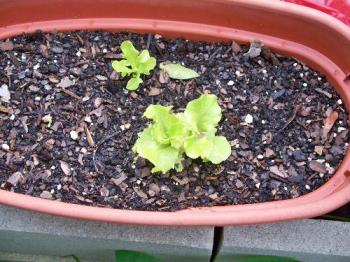 We had so much rain that the front yard went nuts and grass actually grew in the backyard where no grass grows lol!! here is another pic

• United States
27 May 09
I decided to do container gardening this year. My first tomato plants that I bought are doing well and about 2 feet tall now. I planted some tomato seed too and have lots of baby plants. Those will be late developers but ok, since I'll have ripe tomatoes longer! I also planted squash, cucumbers, peppers, bell peppers, canteloupe, and have some watermelon plants to put out!

• Canada
27 May 09
I have that exact same planter! LOL :) My garden is just getting started. I've had my plants and seeds in for just going on a week but I like this point in time because I'm always so hopeful ;) Everything seems to have "taken" well though. I have a cherry tomato growing in the same kind of planter that you have pictured and it's looking strong. I also have two upside down tomato plants going as my "experiment" for this growing season. Anxious to see what happens with those... I found the idea intriguing. My veggie and herb planting so far is 12 beefsteak tomato plants, that cherry tomato, green and red peppers, green beans, yellow beans, peas, italian parsley, basil, peppermint and lavender. I'm growing a couple varieties of marigolds this year (because I want to harvest the seeds... my last batch got ruined by a contractor in my house *sigh*) and I have several containers of tuberous begonias... they are SO beautiful. Good luck with your garden... I hope you get a growth spurt soon! :D

• United States
27 May 09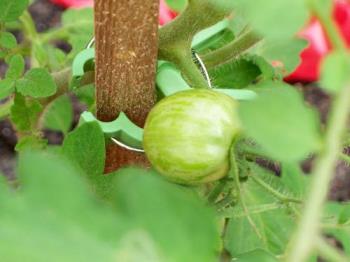 That is too funny!! I am hoping for major growth spurts I want to eat the yummy veggies! here is another pic.

• Canada
27 May 09
We don't have a garden, because we live in an apartment. The closest thing we have is a little bit of rosemary growing in our window sill, that my husband eventually wants to plan out back (landlady told him to go for it) and some mint that's already growing in the back garden that we use sometimes.

• United States
30 May 09
It's doing OK. The deer got most of a flat of tomatoes we set out there, but we may be able to save them, the ground hogs have nabbed a few things. But so far they haven't eaten ALL of anything and almost everything's sprouted or well-grown and doing alright. The rain was a blessing, for us. The plants needed it after how dry it was during the first half of this month.

• United States
29 May 09
your garden doesn't look bad at all. The stuff to me is growing good. I still don't have my stuff in the ground yet till tomorrow as long as it don't rain again. Its been raining here for the past couple days now. I might have to replant seeds again indoors and give them a head start. Then plant them outside. My watermelon and pumpkins are doing good. My tomato plants are still pretty small but doing good.

• United States
28 May 09
Well, seeing that this is my very first garden, it is going pretty good. Usually, I kill any plant that I attempt to grow, but this year I have managed to keep things alive. Hopefully it stays that way. I want to get some good vegetables!

• United States
28 May 09
Look'n good, sweet! I only have a throw away graden this year but it is coming along pretty well. I place all my vegetable and other organic waste in a very large planter and it has yielded onions, tomatoes, bell pepper, and cucumbers so far. I share with anyone who wants to grow such things in their garden. Yesterday, my daughter planted some lima beans...hope they grow! The rain has dwarfed gardens in my area as well, too much too fast---plants are not fairing too well for most gardeners here. I am hoping I have better luck.

• United States
28 May 09
Mine's doing ok so far. We had a rainy spell and I was kind of worried about it, but it came through all right. Almost everything is up and growing. I planted a wide variety of things, but not a lot of any one thing. We're supposed to get some pretty warm weather over the next few days, and that along with the rain should really get it going.

• United States
27 May 09
Mine is doing pretty good. I wish it would grow faster as I am so ready for some nice fresh vegetables.