Do you have a garden? If so, what's in it?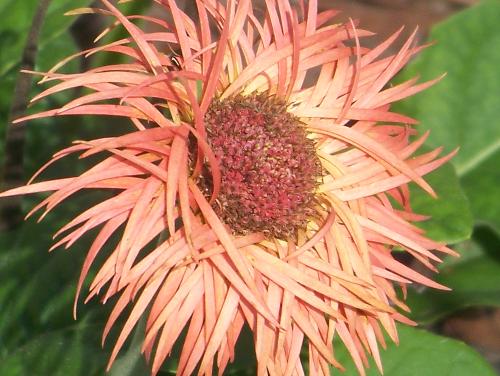 United States
May 28, 2009 9:41pm CST
I've always wanted to have a garden of my own, but we rent, so it's not really possible at this point in time. My grandparents, however, are just finishing setting up their garden. They really expanded from last year, so they've got a pretty big and full garden now with tons of new plants. I'm not sure the exact names, but I know they have rose bushes, peonies, hens and chicks, a couple of climbing things, and some other flowers. They've also decided to grow some tomatoes and green peppers this year, too, which I'm looking forward to my share of, since you know I'll steal some.

So, do you have a garden and if so, what's in it?
10 responses

• Indonesia
29 May 09
I have a garden in my house. There's lots of flower on my garden. I also have a mango tree. Recently it's mango harvest time, so i have many mango at home. Have a nice day and happy mylotting.

• United States
29 May 09
I have a garden but it's only got tomatoes in it, it's a rather smaller one it only has six seperate plants. The story behind it is my dog Winston he loves tomatoes, it's his favorite food. I know you shouldn't give dogs table food, but I bend the rules for him sometimes, and this was the one thing he always loved when I gave it to him. Ironic situation of it all, he loves em, and I hate them. So I planted him his own little tomato garden. He has home grown tomatoes all the time.

• United States
29 May 09
Lol, thanks...he better love em though, cause I sure did put a little bit of work into this. I tried it last year but only planted one little plant, he seemed to be happy with it, so this year I decided I'd plant a few more, I give the extras to my mom, she's happy with that!

• United States
29 May 09
I have a vegetable garden this year. Onions, tomatoes, peppers, okras, etc.


• United States
29 May 09
My family trys to plant a garden every year and they usually plant tomatoes, cucumbers, and squash usually. Since I'm in college I can't really grow my own garden so I'm stuck with my plants that are nonedible. Well aloe is edible but not so much something I want to eat. lol. I mostly grow ferns or the such.

• United States
29 May 09
We decided to attempt a garden this year. We haven't planted yet because the weather hasn't been cooperating with us. It was still frosting last week, now it keeps raining. I'm hoping to get things planted this weekend. The only thing I have plans to plant so far is zucchini. I love zucchini and it is so expensive in the stores. I'm not sure how it will go but I'm going to give it a try.

• United States
29 May 09
I'm the first to admit I can barely keep a plant alive for more then a week or so. I also have limited space. We have a small "area" out front so my husband and I decided to get creative. We put plastic down so weeds can't come through. Then we picked out a pretty mulch and put that on top of it. We put out 2 hanging mixed flower plants and a big one in the center on top of he mulch. It's really pretty and tidy, plus it's easy to take care of.

• United States
29 May 09
Your Grandparents sound like they have a real Green Thumb. I do have a garden. I like to grow flowers, especially Roses, Petunias, Impatiens,Dianthus, Snapdragons and Geraniums. I also have Jasmine growing alongside my fence. And Day lillies and Lillies of the Nile growing on the side of the yard. I would live to grow a vegetable garden, but we have dogs and I don't think that would be wise at this time. But I love color and the flowers are wonderful to see. Living in an apartment, though, you could have indoor flowers like African Violets and Miniature Rose bushes. They are easy to take care of and it would give you lots of color.


•
29 May 09
I have a large back "garden". I do very little with it though so it's pretty overgrown. There are several mature trees, cherry, ash, birch, holly, elderberry, hawthorn as well as an ornamental variety of crab apple (don't know where that came from, it just grew..) There is also a sapling oak that I grew from the acorn. As far as flowers are concerned there is nothing particularly remarkable, daffodils and bluebells mainly. Though I do have a rambling rose that I've trained up one of the cherry trees. It's just about to come into flower now and it has lightly scented pinkish white flowers.