Maniruce and pedicure. How often do you get them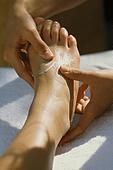 United States
May 29, 2009 9:33am CST
I just gave myself a mani pedi, I love going and getting them but I just do not have the time right now to go so I did it on my own. To me it is one of the ultimate pamper things I can do for myself and well I can not stand gross, rough feet. I even take care of my feet in the winter months. So how often do you get one, do you do them yourself or go get them done?What is your signature color for summer.
5 responses

• United States
29 May 09
I usually do it myself cuz I dont have much time and also I know how to do it since I was 16. Another thing, I can save money on that too, and time also. My friends are working with this and they always give me free stuff and colors as I need.

•
30 May 09
I am afraid sweety that I can't really do manicures and because of my disability doing anything to my feet is impossible! I love getting them done professionally but it is so expensive I can rarely afford it so it is a special treat when I do get it done! xxx

• United States
29 May 09
Hiya! I haven't had a mani in about 3 years! I just don't have the time and honestly, the inclination.... I keep my nails filed and nice, but I don't have the time to paint them... if anything, I use a clear top coat to give them strength.... Before my son, I used to take care of my own mani - I loved the deep reds... but now, if I chip the paint on my nails - as I often would during all of our Tonka Truck Rallies - I wouldn't have the time to fix it and it would annoy me... Pedi's - I can't have. I've had one in my entire life and I can't bring myself to get another for 2 reasons.... One, I am EXTREMELY ticklish and couldn't sit still or relax enough to enjoy. Two, I had to have both of my big toenails removed for medical reasons and my feet are now BEYOND FUGLY... and it would look really weird to have eight painted toenails and nothing on the big toes...

• United States
29 May 09
I've never been told that... I'm wondering how that would work.... I don't have any nail material left, it's just skin... I know sculptured nails have to be attached to the natural nail...


• United States
29 May 09
no, not me, I just clip and be happy with it but what i like to do for my self is getting my eye brows waxed, now that is my pamper time. My feet or just to sensative, it drives me nutz just for me to clip