Two big days in my boys life.. wow they are not babies any longer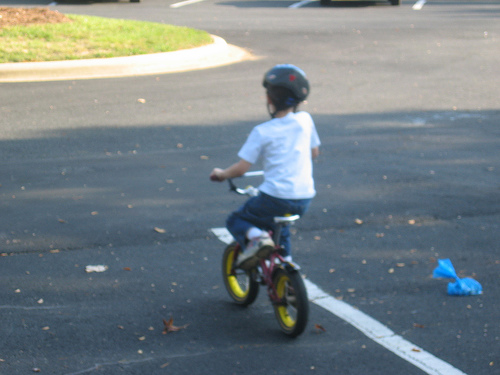 United States
May 29, 2009 5:05pm CST
So yesterday Douglas started swimming and I mean really swimming, not just doggie paddling ( he is five years old) JM started going underwater and jumping in the deep end with swimmies on etc, he is trying to swim but not getting it as well as Douglas is KR is finally getting her face in the water, due to sensory issues this is a big deal in our house. then today, on a whim I took the training wheels off of their bikes, and they are doing it, all by themselves no training wheels, well the boys are Kalie hates her bike and refuses to ride it, but not my boys they are just a going.. they really are not babies any more are they?

I am very proud of them.. but sad that i no longer have babies

5 responses

• United States
29 May 09
AWWW!! That is so cute!! And believe me I know the feeling I don't know where the time went but my oldest daughter will be going TO COLLEGE next year and her sister the year after!! I think I'm gonna go for round 2 and have a couple more kids. I AM NOT READY FOR THE EMPTY NEST SYNDROME!!! :)

• United States
31 May 09
That is great news. My stepson was 5 when I taught him to ride his 2 wheeler. My daughter on the other hand who recently turned 5 a few months ago refuses to want to even try. All 3 of my children love to swim. My youngest is the only one who doesnt like to go under water. They do grow up so quickly. I know how you feel. From the time they are born to age 5 or 6 it flies by and the baby stage is history! Soungs like your children are doing great. Before you know it they will be doing a bunch of other things on their own without any help.

• China
30 May 09
i taste of your happiness,children make any small progress in your eyes is a big happiness,i have made enough ready to be a mother on my mentally and i can't wating to be a mother,but for some reason,i only could be pregnant next year,i really want to experience your enjoyment with children,you are a good mum!!

• United States
30 May 09
Ain't it the truth! Geez. My daughter will be 6 in July. She went on a bike ride with her daddy today. Heck last week she fixed everyone breakfast.Bread with jelly never tasted so sweet. My little lady. At this point when I look at her almost 6 month old brother I mourn her baby-dom and try and absorb again as much of him being small as I can. Like I did with her.I will be 40 next April, so there in't another baby on the horizon. You aren't alone. All I can say is this is payback for doing the same to our parents! lol

• United States
30 May 09
They grow up way too fast. My son is finishing second grade and my daughter is graduating Kindergarten Monday. It doesn't seem like it's been that long since I was holding them in my arms, and changing their diapers.