about the slumdog millionaires movie...??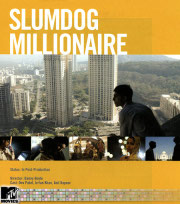 India
June 1, 2009 4:42am CST
hey guys... hope u enjoyed this movie... but did u ever thought of the title.. slumgdog millionaires.. its the movie based on Indian slung people... been in slung is crime... as they are called a s dog even now.. or it is just because the people ruled us called us dogs and it continued through it even if it a democratic country...
5 responses

• United States
1 Jun 09
i think the title has more to deal with the poverty level in the country. Slums=run down, dirty, etc and I'm not saying this to be rude or inconsiderate but alot of people from their are poor and live in run down conditions. In america when someone runs a living complex that isn't up to date and has lots of problems they are called a Slumlord.




• India
2 Jun 09
Hey you shouldnot say the movie portrayed only the dirty part of India. Yes the movie was abt slums but what it showed was the story of a person rising against all odds and finding true love. It was a good movie and you should look at it like a movie with a great story, Not as a movie that tarnished India

• United States
1 Jun 09
The movie it's not bad but like an Oscar winner totally disagree there other movies better than this one.. like mostly people say they market the poverty of India so they impact people that watch the movie..If I could tell you how many things people in poverty go trough can be shocking? but that's not the point of making a great movie..it can be some percent.. but the script..the actor performances... the edition.. the effects.. it a lot of things involved.. well that's what I think.I will give it a 7 from 1 to 10.

•
1 Jun 09
Hey, I've not seen this film. Is it any good? :)