Toys/Sweets Catcher Machines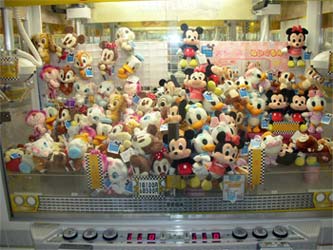 Singapore
June 1, 2009 10:53pm CST
Well, in these few years, there are a lot of these types of toy catcher machines coming up, with toys such as from Disney (Sega), Banpresto, Hello Kitty characters of various sizes... Have you ever seen 1 of these machines? What do you think about these machines, and the types of toys in the machines? Do you think they are nice, or do you think other characters should be inside? Besides these, there's also sweets (confectionery) catcher machines? How do you think?What type of sweets you like to see inside?
1 response

• Australia
2 Jun 09
Oh I love these sorts of machines, especially the chocolate ones that you can judge the build up of chocolates as to your chances of getting a big payout so to speak..I play one of these at a music venue I go to and i nearly always get a huge load of chocolates....

• Singapore
2 Jun 09
Oh, I know which one you're talking about. Yes, it's really very exciting, especially you got all of them. May I know what type/brand of chocolates you got over there? What other types/brands do you hope to get as well?

Do you also play the toy catcher machines too?

• Singapore
4 Jun 09
Oh, Cadbury and Nestle chocolates. I believe it's the mini bite-sized ones you are referring to right? However, I'm just wondering... Won't the chocolates melt in the machine, as for what I know, chocolates tend to melt if they are even in room temperature. In here, we don't usually see chocolates in these sweet catcher machines... However, we sometimes do see chocolate coated wafers/biscuits...