Majestic Beauty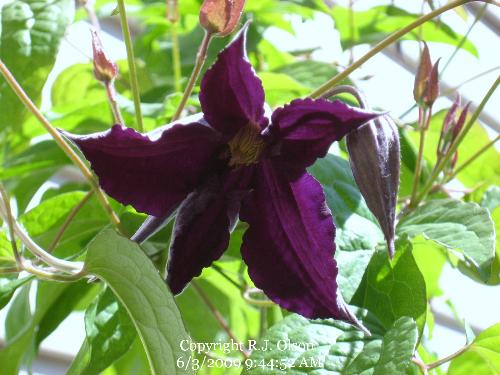 United States
June 3, 2009 11:04am CST
This photo shows one flower opened on my purple Clematis. It will have many flowers once again this year. I plan on moving it somewhere to climb better. Where do you have your Clematis climbing? I am thinking of placing it at my mailbox. It could climb the pole etc and look beautiful. HAPPY POSTINGS FROPM GRANDPA BOB!!~
6 responses


• United States
3 Jun 09
They are beautiful plants. They are a climbing ivy type of flower. HAPPY POSTINGS FROM GRANDPA BOB!!~


• St. Catharines, Ontario
3 Jun 09
I have an arbor at the front of my yard, spanning the walkway. One side has a purple clematis called Polish Spirit and the other side has a pink climbing rose, a cutting from one my uncle took from the climbing rose my mother had growing on the garden shed when I was a child. (My uncle took cuttings with him wherever he moved.) So, mom and dad stand guard, so to speak. (My mother's name was Rose, btw.)

• United States
3 Jun 09
Our son-in-law said he's build us an arbor. I just have to get some plans for it nmow. HAPPY POSTINGS FROM GRANDPA BOB!!~

• St. Catharines, Ontario
3 Jun 09
Lucky you. Mine is just one of those cheap tubular metal ones that come in a box and you have to piece it all together, one 12" length at a time. Sometimes they're sold with lights for weddings.

• United States
4 Jun 09
I love purple. And it is a gorgeous shot. We don't have Clematis. But we do have some very pretty day lillies right outside our front door.

•
4 Jun 09
Hi GRANPA BOB, That is so beautiful, I have a clamatis like that but mine is a little lighter shade, I have it against a fence but it seem to have climbed on to my apple blossom tree, but I have 8 flowers on them. Tamara

•
3 Jun 09
i love clematis. When we moved house about 15 years ago, i left behind some beautiful plants, including clematis. we moved in February so I waited to see what would come up in our new garden. i was delighted when a honeysuckle, a passion flower ( something I had tried to grow before , but had failed miserably , so i was well pleased) and also 2 beautiful clemmies emerged as climbers. 1 large purple flower probably the President and one slightly smaller. they are not quite in flower yet, its usually a little later in the summer, but they are glorious when they emerge. I must take pictures when they bloom and put them on mylot.