Do you like to disturb people, do you like people disturbing you?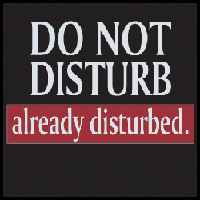 India
June 4, 2009 11:17am CST
I do not like to disturb people and I do not like being disturbed. There are some people who always enjoy disturbing others, but i do not think they will ever like to be disturbed. When we disturb others we must try to think how we would feel if we were disturbed.
3 responses

• Hong Kong
4 Jun 09
No, I don't like to disturb others. I figure that people should count on their own always and try to solve problems by themselves if possible. No, I don't like being disturbed. Especially if I am focused on something, I will dislike others disturbing me because I have to put down whatever I am doing and shift focus to them. The worst part is that more often than not they are just wasting your time with very minor or tedious things.

• India
5 Jun 09
yes, but some find it a pleasure to disturb others.


• India
12 Jun 09
Disturbace is some type of irritation. Even I have the same opinion. No one likes to be disturbed. so I think it is not good to disturb anyone.

• India
7 Jun 09
I think we should never try to disturb others. I don't like to be disturbed also. There are lots of people in the world who simply enjoy disturbing others. I think one of the good think to do is to walk out of the situation. Initially, I used to shout at people who disturb me, but now a days I tries to be calm or walk out when I get irritated.