Where Do You Find Your Swim Suits? I'm Looking For One For Myself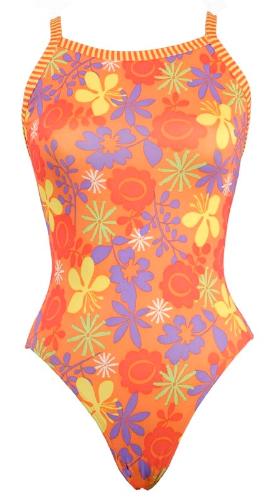 United States
June 4, 2009 3:06pm CST
My swim suit has faded so much because it's 6 years old now so I'm in dire need of a new one but I can't find one that I like. Well, I found these two from searching the net but they don't have my size. I've attached one on here for you to see. I'm not a flashy person but this one is right pretty. I want a one piece with a skirt attached to it or a one piece that I could put a matching skirt on over the swim suit. The skirt doesn't have to be in the same design but one that would match by being one color. So do you have any idea where I could find a decent but pretty swim suit? I don't want to wear some granny looking thing! In fact, I won't!! lol Would you?! lol
7 responses

• United States
4 Jun 09
Neither could I!

lol Thanks for telling me!!


• United States
8 Jun 09
They have the cutest swimdresses now! I almost ended up getting one that had ties laced up the back. But then I ended up finding the cutest retro swimsuit at Land's End online. It is kind of like a swimsuit with a skirt, but not quite a skirt. It covers part of my thighs though and it is one piece. I may end up getting a swimdress as well by the end of the summer if the weather would just improve so that I could swim more. I'm trying to lose weight so I didn't want to buy too many swimsuits in my current size.

• United States
14 Jun 09
Hi Pigglies, when you say they have the cutest swimdresses now, who's they? I'm curious because although I thought I had found my size in the one in the picture but it was way too small. Their size charts are really weird so I took a chance and lost.

boo hoo!! lol You also mentioned Land's End, I will check that out for I'm curious at what they have. Thanks!!


• United States
14 Jun 09
Aw, that sounds like my first swimsuit experience this year! I got a suit that covers my entire thighs, bought it from China. Got here and it didn't even fit up my legs! Their sizing was totally wrong. I'm thinking if they had left their sizing in centimeters instead of converting it to inches it may have been correct. They may have rounded their conversions or something. Now that swimsuit is here for kids who need it when they come over. That's how tiny it is! I found a bunch of swimdresses on eBay. I don't remember the brand of the red lace up one that was so cute, but they were also sold in some online stores if you don't like going through eBay. But you should be able to find it there. That one was in sizes 6 through 14. They have even more swimdresses over size 14 on eBay. There was another brand called Miracle Suit that looked pretty good too. But Land's End is totally great with their sizing and everything. You can even create a virtual model with your measurements to try on the suit online. And from your measurements they will suggest your size. That swimsuit I got from them is the most slimming one ever! Usually I look horrible in swimsuits, but this one is okay.

• United States
5 Jun 09
Actually, the last place I bought a swimsuit from was WalMart. They have one-piece swimsuits and two-piece, where you buy each piece separately. They finally wised up and realized that not everyone had the "perfect" body! Some have a size 8 upper half and a size 10 or 12 bottom half. Finally! Well, I'm a 7-8 now, top and bottom and bought the cutest suit! It's actually a 2-piece, but the top comes down to the bottom and the bottom has an attached skirt. Mostly black but the top and the waistband of the bottom have color to them. MY problem is that I don't go anywhere to wear it! I'm hoping that, with therapy, my husband learns to open up and tear down that fortress he's built around himself and learns that not everyone is out to hurt him. It's for that reason that we never go anywhere. I miss going to the beach!!! Heck, I'm going to go this summer with or without him. Geez, he even has a sister who lives in Ocean City, Maryland! He doesn't like her, but she seems okay to me and she likes me so I'll just go by myself, dang it! Yeah! Thanks so much for posting this because it helped me to talk myself right into going to the beach! Yippee!!! Now, if it'll JUST STOP RAINING for awhile!!!


• United States
7 Jun 09
Hey Marti! How's it goin gal?!


Now, let me tell ya, I ain't wearin no two piece bathing suit!!
Oh HELL NO!!
lmbo!! Me and my pop belly and fat
@ss
ain't getting into
NO TWO PIECE!!
LOL Now you said, "with therapy" and your husband in the same sentence... is he really?! Man! I hope so for your sake and his!! Maybe there is a light at the end of the tunnel for you two?! Now about the rain, no the freakin fracken rain!!

Damn! Enough already a LONG time ago!! Geeze, just a few days ago Greensboro was flooded bad from the storm that went through here and we don't.... DO NOT need any more freaken fracken rain!! lol

• United States
7 Jun 09
I hope he's going to go, Cats. I told him to make an appointment with a marriage counselor. He wants, uhh, well, you know that thing that all men want from the age of about 12? My libido is zilch, nada, gone, outta here! I have no desire for him and told him that there's no chance until "certain issues" are resolved, so he's been calling around to find a marriage counselor under our insurance. I KNOW that a marriage counselor will tell him that he needs individual therapy because of his drinking and his insane NEED to be "alone". Alone with me, that is... without my family or friends even visiting briefly. Time will tell if he goes or not. Now that I've told him that if he ever wants me to feel any kind of desire again, he's going to have to go, I think there's a good chance that he just might go.

• United States
7 Jun 09
I looked in Walmart but they don't have any that I like. I did finally find the one I wanted in the picture and in my size!! Yippee!! lol

• United States
4 Jun 09
I have to get a new suit too. Mine is ancient too. The color is still good but the clorine has deteriorated the elastic in the straps. I haven't started looking yet, I plan on checking at Walmart and seeing what the have. I like the one piece with the skirt attached too, it helps hide the hips.


• United States
17 Jun 09
I've found one of my previous swimsuits through a swimsuit catalog. Their web address is: http://www.pango-pangoswimwear.com/ They make custom made swim wear, and have matching coverups as well. However, they can be a bit pricey. Hopefully you can find a bathing suit that you like. I hope this helped!

• United States
19 Jun 09
Thank you for the site!! There are some nice ones on there but yeah, it bit pricey so I'll hang onto it for a little while just in case I don't find one elsewhere. Thanks a lot sacmom!

• United States
5 Jun 09
The best selections of swim suits I have seen, practical ones, were in catalogs at the YMCA. Other than that, I would say sporting goods magazines. I will look at your picture when I am out of e mail and tell you if I have ever seen any. At one time Sears was my best place to get suits that actually fit.

• United States
7 Jun 09
I finally found the one I wanted in the picture!! Yippee!! I've looked in different sporting goods sites and couldn't find one that I liked but I did finally find this one and I can't wait to get it in the mail!!