NominCashout is back! What are your opinions?? Are they another Scam??!!

India
5 responses

• India
7 Jun 09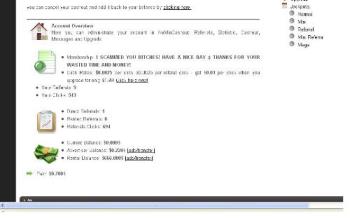 yes they are scam.Today i upgraded my account and i got this messgae.Please view the picture of snapshot of nomincashout account

• Canada
7 Jun 09
they could be a scam or legit either way thers no bad in trying it

• Argentina
7 Jun 09
I don´t really care a lot about being scammed, it´s just something that can possibly happen. However receiving that message is something rally annoying :( At least I received some money from them, and never invested, so the bigger lost was the time.


• India
7 Jun 09
hi whizkid, i too noticed that only after you have said it.thanks for starting this discussion.may be they had a lot of maintainance to do.i think they are back in form to pay their members,i am really glad that they are back.